By now you should know that Baldur's Gate: Enhanced Edition, an improved remake of BioWare's classic late '90s RPG, was announced as coming to the iPad back in March. Astute Baldur's Gate fans, however, might have noticed a tweet from creative director on the project Trent Oster that not-so-subtly pointed towards a countdown timer on the BaldursGate.com website.
Well, the timer has finally expired, leading the way for a bunch of new information regarding the highly anticipated release. First up is a brand new adventure called The Black Pits which will let you create a party of up to 6 characters and fight your way through 15 different arena-style battles. There will be unique battle types and a host of new characters to encounter, and the developer pegs The Black Pits as clocking in at about 6 additional hours of playtime.
Three brand new characters will also be available in Baldur's Gate: EE. Two of those characters, the Monk Rasaad yn Bashir and the half-elf Wild Mage Neera, will each come equipped with a new adventure to complete and a new area to explore. The third new character, the Blackguard Dorn Il-Khan, will come with the Blackguard kit for creating your own champion of evil.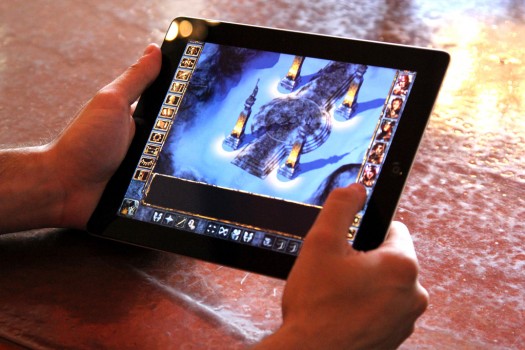 The last bit of news covers all of the enhancements that qualify the new release as "Enhanced Edition." These include improved multiplayer with matchmaking and cross-platform play, a slick new interface with special additions for touchscreen devices, brand new hand-painted cinematic cutscenes, features from Baldur's Gate 2 like class kits and previously unavailable sub-races and classes, and more than 400 general performance and usability improvements over the original game.
Other nuggets of information have been dropped on Trent Oster's twitter page as well. Apparently cross-platform saving isn't something that will ship with Baldur's Gate: EE but it's in the works and they hope to implement it sometime down the road. Also, more new characters and adventures are planned as future updates to support the game post-release.
The iPad version is being handled a bit differently than the desktop versions as far as what you get with your purchase. On iPad the game will be priced at $9.99 and come with the new Black Pits adventure and the Monk Rasaad included. The other two new characters Neera and Dorn will be available as in-app purchases, presumably at $4.99 each, to bring the total package's price in line with the desktop versions which run $19.99. The desktop versions include all content right from the start.
Finally, the most important question: When can we get our hands on Baldur's Gate: Enhanced Edition? Well, if you're on a Windows PC then you can nab it on September 18th, and it's available for pre-order right now. iPad and Mac versions are slated as just "September" with no specific date, but should hopefully be right around the same time as the Windows launch. There is an Android version coming too, but its release is simply TBA.
If you're as excited for Baldur's Gate: EE as we are then chances are that hearing it will be coming in September is music to your ears. Be sure to check out our forums to share in the excitement with others, give a listen to our podcast interview with developer Beamdog, and start saving up your pennies for the September launch.