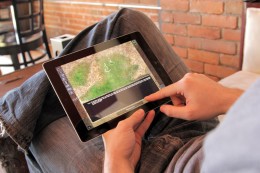 No matter what iteration of Apple's tablet you have, Baldur's Gate: Enhanced Edition will work on it. In our conversation with Beamdog's Cameron Tofer this afternoon, the COO confirmed that no iPad will be left behind. He also said that an iPhone port is a possibility, too. "We're going to have to make that decision of can we do it, is it really worth it," Tofer told us. "If we can't do it, if we get it on there and its just not playable, we can't make a product of it. I'm going to give it my best because I'd love to see it on [the iPhone], but I can't really make any promises right now." The license agreement that Beamdog signed that makes this edition of the game possible includes the iPhone.
Downloadable content seems considerably less iffy. While Tofer didn't specifically state that Beamdog will be churning out content outside of the new adventure and character, he teased that Beamdog isn't going to bail on the game post-release. "This isn't just something where we're going to ship the game and move on. We've got big plans," Tofer told us.
iTunes Link: The TouchArcade Show
Zune Marketplace: TouchArcade.com Podcasts
RSS Feed: The TouchArcade Show
Direct Link: TouchArcadeShow-Bonus-034.mp3, 20MB
Tofer described Beamdog's relationship with rights holder Wizards of the Coast as good, and the studios work together daily.
If you'd like to hear more of our conversation, feel free to tune in via the links above. On top of a weekly podcast, we frequently discuss topics with developers on bonus shows like these. Get them while they're hot! They tend to get cold fast.