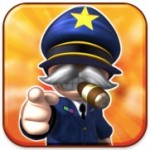 Turn-based strategy games are a natural fit on iOS, as evidenced by the decent selection of offerings on the App Store. However, it's rare to find a title that takes the effort to implement every facet of its offering with care and attention to detail. Rubicon's Great Little War Game ($1.99) was one such title, offering iOS gamers an excellent strategy experience. Its newly released sequel, Great Big War Game ($2.99), continues the tradition with the inclusion of asynchronous multiplayer that truly changes the game.
Great Big War Game continues where its prequel left off with the same great turn-based tactical action that we've grown to love. If you haven't played Great Little War Game, imagine a strategy title similar to Advance Wars and other turn-based games that have you commanding an army of various units against the opposition. Battles play out in a rock-paper-scissors sort of way, with units being strong or weak against others, and so on. There's serious depth to GBWG with a wide range of units and strategies to employ against the enemy.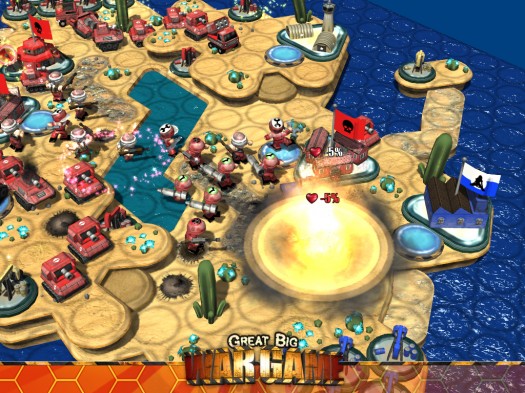 Great Big War Game supplements its refined gameplay by making everything, well, bigger. You'll be treated to an enhanced visual engine with retina-quality graphics. The single player campaign has been expanded to fifty missions, each supplemented by simple cutscenes with the series' trademark humor. As before, the campaign does a great job acclimating new players to the game while ramping up a decent pace for veterans. While save support for multiple games exists, iCloud support is unfortunately missing for taking your campaign to other iOS devices.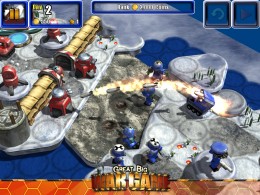 Strategic nuances such as high ground advantage, as well as the game's multiple difficulty modes (as well as skirmish mode) also make a return. Meanwhile, the inclusion of battle points (awarded after successful missions or found on the battlefield) allows you to endow upgrades on your unit of choice, further customizing your own experience and play style. In short, Rubicon does a great job bringing back everything that made Great Little War Game fun, along with a few important additions.
As great as the single-player and skirmish modes are, they're simply more of what made GBWG's predecessor fun to play. The star of the show for this sequel is the inclusion of asynchronous multiplayer, complete with the ability to manage and play simultaneous games against anyone in the world. This is where the depth and fun of GBWG's established gameplay is made anew with the unique strategy associated with playing against a human opponent.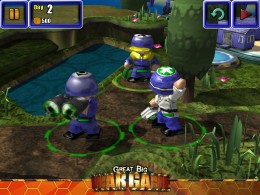 A ranking system as well as auto-matching makes getting into games simple. As for actually playing, suffice to say multiplayer is a blast and is the perfect feature to keep the series fresh and exciting. Whether you focus on resource hogging, stealth tactics (via the game's fog of war) or simply all-out war, there's a play style for everyone. I also appreciated how smooth the actual multiplayer experience was with push alerts to let you know when your turn comes up.
Yes, pass-and-play multiplayer existed in Great Little War Game, but online multiplayer of this caliber is a different beast entirely. Add in the fact that multiplayer is platform independent, and there should be no shortage of available victims to go up against. One minor complaint is the fact that you'll have to create an account (outside of Game Center) on its multiplayer servers, but otherwise the experience works well.
Adding to the single and multiplayer modes is a variety of IAP packs that range from the ability to customize your army's uniform color and logo (for folks looking for a little aesthetic personalization), to extra battle points for the campaign, to a large variety of multiplayer/skirmish maps (complete with bonus units). GBWG already comes with a decent amount of maps, and the option to add more greatly expands on the potential replayability. As for the bonus units, I personally don't think they add too much of an advantage over non-IAP players, and serve as nice additions for folks that pick up the packs. Rumblings of additional content have been made in our forums, for folks looking for even more.
With the inclusion of asynchronous multiplayer, Rubicon has done a great job implementing the one feature missing from GLWG. When you include the large single player campaign, skirmish mode and maps, along with the excellent gameplay from its predecessor, there's very little to complain about in Great Big War Game. It's simply an amazing turn-based strategy game and a worthy sequel to the series.