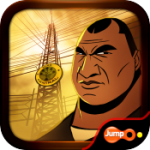 From the land of 'things that come out of nowhere,' we have Electric City. It is, first and foremost, an animated web series helmed by Tom Hanks with an absolutely stellar voice cast. It's also an app, and an iOS game. And so far, at least, it seems pretty damn great.
The first ten of twenty short episodes have premiered on Yahoo! Screen, and they tell a compelling story. It's the tale of the end of the world, and what comes after: Electric City, a symbol of peace and security. But that security comes at a cost. The AMP, the force that ostensibly controls the city, keeps a tight reign on two of the most precious resources, electricity and wireless communication. The population chafes under that rule, and revolt is coming.
From what we've seen so far, the series is nuanced and mature. It asks us what we're willing to give up for freedom, how much we're willing to sacrifice to sustain the resources that drive us. It's told from both sides of those lines, and so far it stays far away from black and white answers. The city is a lively, colorful place for a dystopia; the characters are neither heroes nor villains. Hanks' production company, Playtone, has done a lot of great work to date, and this looks like it will fit right in.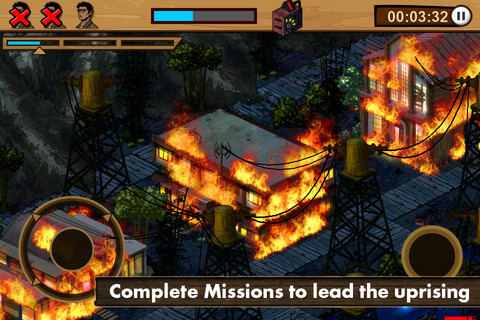 The Electric City mobile app should be available any time now. It has all the currently-released episodes of the webseries, though most of those require an in-app purchase. You might just want to skip the hassle of that and watch them for free online. The app also lets viewers dig a little deeper into the mythology of Electric City with two prequel comics, behind-the-scenes sneak peaks, and profiles of all the characters in the show.
The story delves deep into mysteries and code breaking, the perfect elements for tie-in games. An underground network of Morse Code-style "tap boxes" connect Electric City's underclass, its black market and its rebels. That code is explored in a Facebook app and companion website. The story of the rebellion is told in Electric City: The Revolt ($0.99)
The Revolt was created by Jump Games, a studio known for handling Real Steel ($0.99) and other licensed games from Reliance Entertainment. It tells the story of Frank Deetleman, a city technician and a member of the underground. We've had a brief look, and it appears to be a stealth action game that explores Deetleman's contributions to the cause in a pretty abstract way. You wander the neighborhoods of Electric City, hiding from AMP officers, collecting resources and generally being a nuisance to the folks in charge.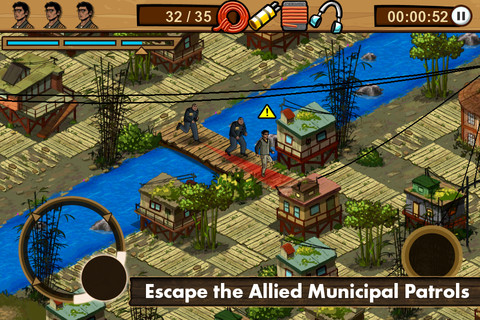 That means ducking around buildings from a top-down view, picking up icons scattered on the ground, and tapping into hidden object and matching mini-games. We've only had a look at the first few levels, so it may get more in depth over time. So far it doesn't seem to be a necessary part of the Electric City mythos, and it certainly lacks the dark tone of the series. That said, it does dig into a part of the story that you won't see on the, er, slightly bigger screen.
We'll take a longer look at Electric City: Revolt over the next few days and let you know if we think it's a worthy addition to the mythology (or your app collection). In the meantime, the web series is free to watch online, and it's pretty great. If you end up hooked, there's certainly a lot of companion material out there, both in the App Store and outside it.