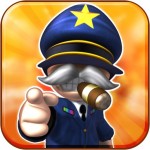 Oh hey, here's a game that slipped under our radar during this week's batch of new releases. That's because it jumped the gun and actually popped up in the App Store last night. I love when that happens! It's Rubicon Development's Great Big War Game ($2.99), the follow-up to last year's excellent turn-based strategy title Great Little War Game.
As you might have guessed, Great Big War Game takes everything great about the first game and makes it bigger and better, including things like improved visuals, a true fog of war, and cross-platform online multiplayer.
We'll be giving the new game a thorough look and will be sure to tell you what we think, but chances are if you liked the first game then you'll want to just mash away at the link below. Also, our forums are abuzz with discussion of Great Big War Game, and there's a thread right here where you can add your username for some online competition. And don't forget you can still get the first game for free if you want to get an idea of the gameplay.