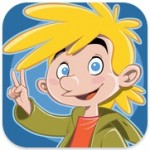 It was in early may that Rovio teased and then confirmed that the game formerly known as Casey's Contraptions had been purchased by them, and that they would be re-releasing the game with new graphics, levels, and features under the name Amazing Alex.
It was sort of a surprising announcement, but also intriguing. We enjoyed the original Casey's Contraptions and weren't really sure what Rovio would do with it. Now we can finally discover the answer as Amazing Alex ($0.99) is now available in the App Store.
We'll be digging into Rovio's take on this clever puzzle game to see what it's all about, but given that the source material was good to begin with I highly doubt they've done anything to change that, and chances are that with Rovio's vast resources it will be even better as the new Amazing Alex. Check back for an official review in the near future and also check out our forums for early impressions of Amazing Alex.