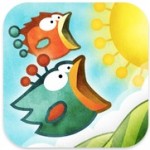 When Andreas Illiger released Tiny Wings ($1.99) in February of last year, nobody had any idea the kind of success it would become. Sure, it's easy to look back and see just how well he struck a balance between whimsical art design which hooked you on a deep level and brilliantly simple game design which was perfectly suited to mobile.
While hindsight is 20/20, a much harder problem (and one we've explored in the past) is just how do you follow up such an unexpected hit? The answer in the case of Tiny Wings is don't fix what isn't broken, and instead expand upon the mechanics of the first game in a way that's unobtrusive to what made it a hit in the first place while simultaneously changing enough to make the whole experience feel fresh.
I think Andreas has achieved that beautifully with Tiny Wings 2.0, a free update for the original game, as well as with Tiny Wings HD ($2.99), a brand new iPad-only version that contains all of the same features as version 2.0 plus has a sweet same-device multiplayer mode.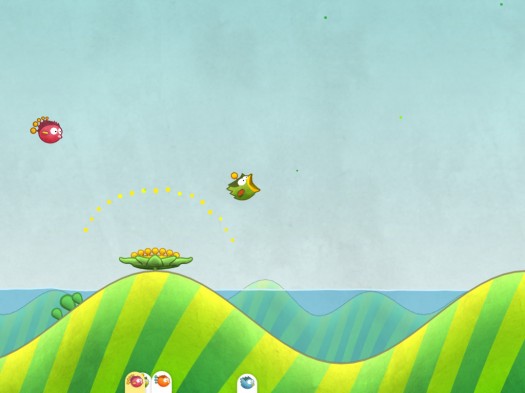 First, the Tiny Wings you know and love remains mostly untouched, aside from updated visuals for Retina screens. The same set of goals and unlockable nests, same gameplay and music, same day-to-night game timer. It wasn't broke and thankfully it hasn't been needlessly fixed, just made prettier and rebranded as Chapter 1: Day Trip.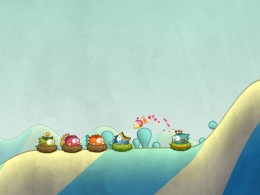 The new content comes in Chapter 2, called Flight School. Here you get 4 new birds to play as, each with their own unique personalities and names. Flight School consists of 3 worlds (with more coming soon) with each world containing 5 levels. The goal is to race one bird of your choice across 15 new levels against the other 3 birds who are controlled by AI.
You'll have to come in 3rd or better to move from one level to the next, and the progress for each of the 4 new birds is tracked separately, so you can earn medals and completion times independently for each bird. Each bird can also "nest up" similar to the original mode based on your medals earned, and I have a feeling something cool might be waiting if you can snag gold for all 15 levels.
The Flight School also has levels with much more varied terrain compared to the mostly smooth hills of Day Trip. Even if you're in a good rhythm, expect the unexpected as you might come up against some jagged hills, long flat areas, and even puddles which will bring you to a near halt. There are also special flowers which act as trampolines that you can use for a quick bounce if you can aim at them properly.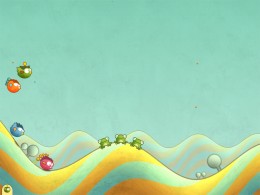 Flight School is smart about its changes so that at the end of the day it still feels very much like Tiny Wings, but it also feels like an appropriately new experience. Racing against AI opponents is fun and challenging, and with medals to earn on each of the 15 levels there's a lot to work towards. I can't help but feel that Flight School would be perfectly suited for online multiplayer, or at the very least racing against the ghosts of friends. Hopefully this can be explored down the road sometime.
Speaking of multiplayer, Tiny Wings HD on the iPad comes with a 3rd Chapter called Hill Party. This is a same-device multiplayer mode which splits the screen in half and pits two players against each other in a race to be first to 10,000 points or to see who can get the best score on a 5-level playthrough. This local multiplayer mode works a treat, and is easy enough that you can shove one end of your iPad in practically anybody's face and be having a blast together within a matter of seconds.
Credit to 148Apps for this great hands-on video of Flight School in Tiny Wings HD:
So there you have it, Tiny Wings 2.0 is a free update to the original app and a new iPad version that both deliver a great "familiar-but-new" experience. I've fallen in love with Tiny Wings all over again, and I'm excited at the thought of new Flight School levels and the possibility of more multiplayer in the future.
The update to the original game is out now, and since it's finally Retina-ready it looks pretty good in 2x mode on the iPad. If you want native iPad support, I think the new Tiny Wings HD with its proper screen size and local multiplayer mode is totally worth forking over the extra few bucks.