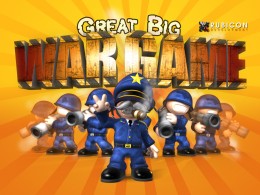 Rubicon Developments has announced a follow-up to last year's lighthearted but challenging turn-based strategy title Great Little War Game ($1.99), and are aptly calling it Great Big War Game. That's because everything in this sequel is bigger and better while still retaining the deceptively deep hex-based gameplay of the first title.
We loved the first Great Little War Game in our review, and it was well supported with new content and features following release. The sequel will expand on the original with lots of new things, like a 50 level single-player campaign and asynchronous online multiplayer. Check out this recent trailer for Great Big War Game and note just how much nicer the visuals have gotten too.
Yesterday Rubicon announced that Great Big War Game is set to launch next week on July 18th for $2.99. It's also hitting multiple platforms, like PC, Mac, and Android. The online multiplayer will be cross platform amongst them all, and feature a whopping 70 different multiplayer maps. I'm anxious to check out Great Big War Game when it launches next week, and don't forget stop by the forum thread to chat about the game prior to release.