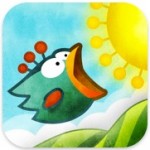 Last week Andreas Illiger teased us with talk of Tiny Wings 2, which in actuality turned out to be an update to the original Tiny Wings set to hit alongside the long-awaited iPad version of the game. Well, while the iPad version Tiny Wings HD is still making its way to everyone across the globe, the update for the original game has just gone live.
Tiny Wings 2.0 comes with an entirely brand new racing mode with 4 different birds to play as and 15 brand new levels to swoop and dive through. The iPad version, Tiny Wings HD, contains all of this new stuff as well as a same-device multiplayer mode. Both come Retina Display ready now too, and look simply fantastic.
We spent some time with Tiny Wings HD earlier today and shared our thoughts on video, and we'll have more to post on 2.0 when Tiny Wings HD hits the US App Store tonight. In the meantime, go update your original game as it should be live worldwide and check out all the awesome new stuff in Tiny Wings 2.0.