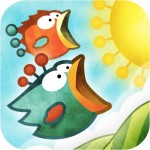 Here we go, the moment many of us have been waiting for. Tiny Wings 2 has hit the New Zealand App Store and will make its way through the different time zones, ultimately landing in the US App Store tonight at 11pm EST. But wait, what's this? This isn't a new game at all, but rather an update to the original Tiny Wings ($1.99). Neat!
Yes, that's right. Tiny Wings 2 is actually Tiny Wings 2.0. It's a free update to the existing game as well as a brand new, separate iPad specific version, something we've been waiting for ever since the original release. When talking to Andreas Illiger about this decision, he had this to say regarding updating the original game as opposed to releasing a brand new app:
I [never] clarified if it will be an update or an seperate app before the release because then my fans will be happy on the release day when they see that the sequel isn't a seperate app and they will get it for free. I worked on the 2.0 version for the last 12 months and everyone told me I should make a seperate app out of it and sell it again (because it is almost a new game and I would earn a lot more money). It was a heavy decision for me to give away this new version for free but it feels right (most people I talked about this subject don't understand it :).

So I decided to give it away for free as a big "thank you" to all my fans for changing my life. That's really important for me and the reason why I make this little stupid marketing trick of confusing my fans before the release.
Tiny Wings 2.0 retains the same mode from the original while also adding a new one called Flight School, which sees you controlling one of 4 different birds as you race against 3 AI opponents towards the finish line across 15 brand new levels. In addition, the iPad version comes with a same-device multiplayer mode which gives 2 players one half of the screen each to compete against each other. Both versions also (finally!) support Retina Displays.
Here's some video of the new Tiny Wings HD on the iPad along with some commentary from yours truly and Mr. Brad Nicholson:
If you are one of the millions who already own Tiny Wings, keep your eye on the App Store for an update which should hit at some point today that adds the 2.0 features. If you're an iPad owner, the new HD version will be making its way to every time zone including the US at 11pm EST tonight, and the NZ link can be found below. And if you're fretting on having a separate version for your iPad don't worry, iCloud save game syncing is one of the new features as well so you can always keep things straight between devices.
Also, don't forget to revisit the Tiny Wings topic and new iPad version topic in our forums and discuss this massive new update with the rest of the community.
NZ App Store Link: Tiny Wings HD, $2.99 (iPad Only)