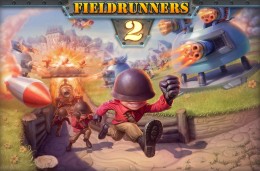 Last month we learned that Subatomic Studios was in the midst of working on a sequel to their iOS classic Fieldrunners ($2.99), one of the early App Store success stories and likely the game that had the biggest hand in sparking off the explosion of games in the tower defense genre. A couple of days following that announcement we talked with them on our bonus podcast where they gave us additional insight into the new game.
Now, at E3 this week, one of the leads on Fieldrunners 2 at Subatomic, Jamie Gotch, was gracious enough to sit down with me and discuss the game at length despite being completely wiped out from travel and convention fatigue. Check out this in-depth video overview where Jamie goes over many of the new features in Fieldrunners 2 and talks about the thought process behind some its new designs and mechanics.
Fieldrunners 2 was looking fantastic in this nearly final state, and looks to do exactly what you want a sequel to a successful title to do. It keeps the things that made the original so great while simultaneously expanding upon them in new ways that won't alienate the core fan base. Also, it introduces new elements that they made sure fit in line with what you would expect from a Fieldrunners sequel, and at the same time the entire experience scales well to a hardcore and casual audience, making it much more approachable to a wider group of players.
Fieldrunners 2 is very close to submission, and if all goes according to plan you'll be able to get your hands on the game by the end of this month or very shortly thereafter. It'll be hitting the iPhone first, with an iPad version planned for sometime later this year.