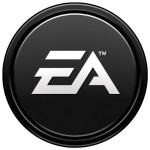 Need for Speed Most Wanted – At the beginning of the week, EA announced a reboot of their beloved racer Need for Speed: Most Wanted, which launched on the last generation of consoles as well as the Xbox 360 back in 2005. The console version looked fantastic, but EA is also releasing a mobile version which we had a chance to check out at a hands-on event here at E3.
The iOS version of Most Wanted looks simply stunning, and features some advanced graphical effects like real-time lighting and reflections, vehicle damage, particle effects, and highly detailed environments. Most impressive was that the version we played was running on an iPhone 4S connected to a large flat screen, and it upscaled beautifully. At a glance I wouldn't have thought twice if the EA rep told me it was the console version. It looks that good.
Pretty graphics are all well and good, but Most Wanted is also a ton of fun to play. There was just a single track for us to try built specifically for E3, but it appears the mobile version of the game will be a more traditional racing game structure rather than the open world style of the console game. Check out our hands-on video of Most Wanted from the press event.
Our build used tilt for steering and simple gestures for braking and boosting, and as a testament to how well the game controlled I literally forgot I was controlling the game on the TV using an iPhone, and didn't glance down a single time to check on what my hands were doing. It just felt incredibly natural. I'm really excited for a new high quality arcade racer for my favorite device, and Need for Speed Most Wanted for iOS is scheduled to hit the App Store sometime this fall.
---

Fifa Soccer 13 – While Most Wanted was definitely the star of the show, there were a number of other titles on display from EA and Chillingo. Fifa 13 is on the horizon and as with most sports titles looks to be an improved iteration of last year's game of footy. There are several new features in the game like a clever "flick" mechanic that allows for more advanced moves with your player using the touch screen. But the biggest improvement is in the visuals, and the mobile Fifa 13, much like Most Wanted, practically looks like it could pass for a console title. Expect the new Fifa 13 to hit App Store shelves later this year.
---

Chillingo had a bunch of games on display too, and two of those have already arrived on the App Store: Catapult King ($0.99), the gorgeous 3D iteration of the Angry Birds launch stuff to knock over structures formula, and Tiny Troopers (Free), a 3D overhead action title with the soul of the classic Cannon Fodder. Be sure to check out those titles, and we'll be putting them through the wringer for reviews in the near future.
Bop It! Smash – Chillingo is also partnering with Hasbro to bring a new iOS version of the popular Bop It! toy that we all remember annoying our parents with when we were younger. The new toy is called Bop It! Smash, and is a barbell-shaped type of deal with a row of lights running across the middle of the unit. The lights move back and forth, and when they're in the middle you "bash" the ends of the toy in, trying to capture the light right in the dead center for the best score.
As you progress, the lights move at an increasingly rapid pace, testing the merits of your reflexes. The iOS version emulates this basic gameplay, and adds in some new graphical effects and features. The best part is that it will be free to download, and should be hitting the App Store this weekend.
---
Knights of the Round Cable – Finally, we checked out Knights of the Round Cable, a game I felt has some serious "sleeper hit" potential. Sometimes games just need one really fun and unique mechanic to stand out, and that describes Knights of the Round Cable to a T. You play as a variety of different knights who can grapple onto anchor points set around each level, and then swing around from them collecting groups of gems.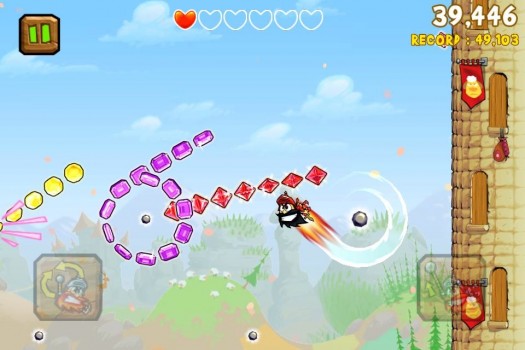 The game uses just 2 buttons, one to launch your grappling rope and one to change the direction of your rotation. After a mild learning curve you'll be flinging your knight across the screen like a pro, and it's seriously fun. Knights also comes equipped with a huge store of bonus items, a mission structure like Jetpack Joyride, and a ton of different knights to unlock and use in the game, each with their own unique attributes. Knights of the Round Cable is set to hit this summer, and based on my time with the game it can't come soon enough.