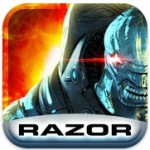 We've been excited to check out Blowfish Studios' and Crescent Moon Games' newest collaboration effort Razor: Salvation (Free) for a few months now, and I'm happy to report that the studios who worked to bring us Siegecraft ($0.99) last fall have bucked the normal Thursday release trend and have gone ahead and set the game loose in the App Store right now.
In Razor: Salvation you'll play as the commander of a dropship who gets plunked down right in the middle of heated battle zones and must fight off an alien invasion while simultaneously rescuing your fellow human survivors. It has the characteristics of a first-person shooter, with a variety of weapons to use and advanced enemy AI who intelligently utilizes the environment to blast away at, but you play from a fixed position in the battlefield with a full 360 degree range of aiming around you. Check out the trailer to see what i mean.
Other features include high-end visuals with support for the new iPad Retina Display, Game Center and iCloud integration, and an interesting-sounding regional ranking system where you can create your own online faction and compete for regional supremacy. We'll be putting Razor: Salvation through the wringer to see how it all came together, but it's currently only 99¢ as part of an introductory sale if you want to just dive right in, and you can always check out our forums for more early impressions and information.