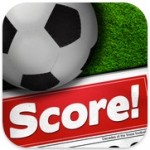 If Flick Kick Football ($0.99) is a swirling Cristiano Ronaldo free kick, then Score! Classic Goals (Free) is a pinball machine Barcelona build-up: mechanical, sometimes even clinical, but with a deep understanding of The Beautiful Game and a potentially spectacular payoff.
Which is not to say the game isn't about scoring classic goals, as the name implies. You're tasked with recreating eighty of international soccer's greatest goals spanning the last four decades. While it includes some sensational individual efforts like Diego Forlan's free kick against Ghana in the 2010 World Cup, it also highlights some wonderful team goals, like this beautiful Mexican header against Italy in 2002. And that's where the game really excels — its success at simulating the interplay of a team.
The game's Amateur mode weens you on the idea of doing more than simply curling a ball into the back of the net by limiting control to directional swipe inputs. An overhead map accessible at any time shows you the route of the play, and down on the pitch white arrows indicate which teammate is intended to receive a pass while dotted yellow lines show you a player's route for through balls.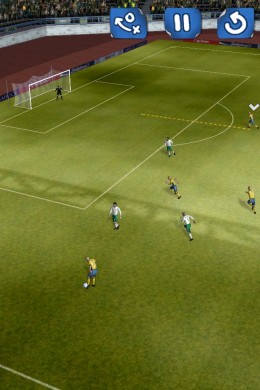 It's pretty simple stuff and very rewarding, but it's just a warm-up for the core game. Clear Amateur and you'll unlock Professional mode, where play really opens up. Instead of just connecting the dots, the length of your swipes determines the power of your passes and shots. Drag your fingers too far and an easy chip turns into an embarrassing blast over the bar. Push the ball too softly and you'll hit it a foot short, into an opponent's knee. It's sometimes maddeningly precise, but it's also really tactile. It feels like soccer.
A lot of this is down to player movement. Play moves in real-time when the ball is traveling and great care has obviously been taken to emulate the frenetic energy of a match. Teammates slide into space, making runs for passes they'll never receive while defenders quickly move into gaps you thought would remain open before you started to push forward.
The visuals are serviceable, reminiscent of the Virtua Striker engine Sports Interactive uses in their Football Manager series, but the game shines in the way players animate. Standard running animations are a little stiff, but otherwise it's remarkable how lively the athletes are. Send a ball too long up the touchline and the striker chasing it down will slow to a stop, put his hands on his hips and exasperatedly look at the ground. Errantly flick a ball to a defender and he'll authoritatively put his weight through it, sending it far out of bounds. It's such subtle visual play that really enlivens the simplicity of what you are actually doing. Which, again, even on Professional, is connecting points.
Completing Professional unlocks the Bonus mode which allows players to reimagine the famous goals they scored in the other two modes. I found this more interesting in concept than execution as it didn't quite grant the freedom I desired. Set-ups are the same with the key difference being how you finish. Several stages had me frustratedly attempting, and failing, many different types of shots, only to realize the game still wanted me to chip it over the keeper the way it originally happened.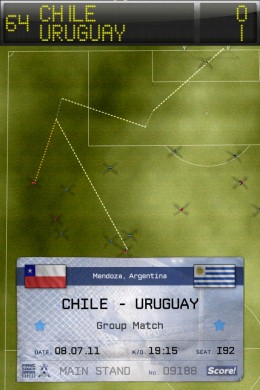 I had small issues like this throughout, but only imagine it being a big issue if you were determined to finish the game with a perfect rating on each level. You're graded one-to-three stars on each based on the accuracy of completion, but there's no reward for accumulating those stars other than some Game Center achievements. The slavish adherence to source material required to three-star every level is an amount of tedium I can't imagine putting myself through.
Small, occasional control issues aside the only other complaint I have is that I found myself wanting more. As much as I enjoyed my time with it, I tore through the majority of the game in an evening. A popular suggestion on the Touch Arcade forums is for the addition of club soccer goals, and I have to agree. This past club season was one of the most exciting in recent memory and I'd love some of its highlights, such as Peter Crouch's miracle volley, or Didier Drogba's final, incredible penalty kick as a Chelsea player. Make it happen, First Touch.
And what of those that don't follow soccer? If you are able to appreciate a fine goal, at a lone dollar it's a rather safe bet. It's accessible, intuitive and has handsome menus. However, if you are one of those people that'll be clamoring for more goals in a week, this is among the finest soccer titles on the platform, in the same league as New Star Soccer (Free) and Flick Kick Football, if a little lower down the table. A must-own, Score! Classic Goals is a love letter to the game of soccer. A sweat-drenched, grass-stained love letter that is very occasionally as articulate as a Wayne Rooney tweet, but a love letter nonetheless.