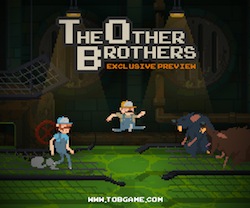 Despite some a programmer switch, The Other Brothers continues to be a game that has us jumping up and down in anticipation. And not just because of its look, as has been the case in the past. Newly released alpha footage of the title shows off a refreshingly quirky tone and a style of platforming that we're totally behind. If the words "whimsical" or "radical-some" pop into your head after viewing it, you're in good company.
The Other Brothers has been pitched to us as "a pixelated family fun adventure [game] of running, jumping, collecting, and racing against the clock," but with a twist. We talked with the game's original team earlier this year and have posted about the title several other times before, but we've never actually seen it in motion until this video hit the 'net.
The Other Brothers is due out this year.