It was back in October of 2010 that Sega first released Sonic the Hedgehog 4 Episode I ($2.99), a direct sequel to the original 16-bit Sonic trilogy on Genesis and the much ballyhooed return to its classic 2D roots after more than a decade of mostly mediocre Sonic games. While we did enjoy Episode I in our review, I don't think it exactly lived up to the expectations set by the rabid Sonic fan base (could anything, though?).
In short, Sonic 4 Episode I brought modern visuals, great level designs, and a Sonic experience that was decidedly better than the majority of recent entries in the series. However, it didn't quite feel like the Sonic games of old. Sonic's movement in-game felt both slippery and sluggish, and it seemed much too easy to lose momentum and speed while playing, which isn't a good thing for a character that has made his name by blasting through levels in a blue blur. Still, with the right expectations Sonic 4 Episode I was a pretty darn fun platformer that worked well on the touch screen, and was a huge step in the right direction for a faltering Sonic franchise.
Then, for the next year or so, Sega seemed happy to almost forget that Sonic 4 even happened as they hyped the impending release of an enhanced port of Sonic CD for iOS and other major platforms. And, last December, Sonic CD (Free) finally hit and it was simply phenomenal. Since a lot of people might have missed out on Sonic CD the first time around back in the '90s, in a way it was almost like the new Sonic game that fans had been clamoring for for years, and really served to highlight just how much Sonic 4 Episode I missed that mark.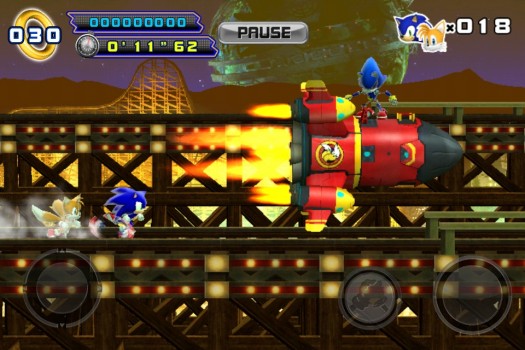 But, Sonic 4 wasn't terrible by any means, and it wasn't quite through just yet. Just a couple of weeks after Sonic CD's release, Sega announced that Sonic 4 Episode II was slated for 2012. They would be using a new game engine for this latest episode in order to provide better visuals and address the complaints from fans over the wonky "feel" of Sonic's movement.
So, with the convoluted backstory of Sonic 4's rocky development road out of the way, this week finally saw Sonic the Hedgehog 4 Episode II (Free) hit all the major platforms. And, just like Episode I, it makes many great strides forward for the series, but some hiccups keep it from being the second coming of the original Sonic games that everybody hoped it would be.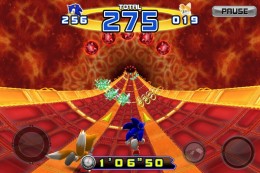 Sonic 4 Episode II will look very familiar if you've played Episode I. There are 4 worlds to explore, each with 3 stages and a boss fight, and you can again play every stage in the default Score attack mode or a speed run-focused Time Attack mode with Game Center leaderboard support. This is all pretty much right in line with how the first game works, except that all levels aren't available right off the bat which gives the game a much better sense of progression.
Additionally, in the same way that Episode I drew a ton of inspiration from the original Sonic the Hedgehog, Episode II draws a similar inspiration from Sonic the Hedgehog 2. Many of the level elements and themes will seem quite familiar, the bonus stages are similar 3rd-person half-pipe coin ring-grabbing runs (which are incredibly fun I might add), and of course Episode II also contains Tails as a semi-controllable secondary character. You can even connect locally with another device and a second player who can control Tails while you control Sonic, just like back in the Genesis days.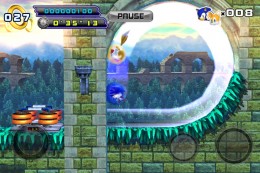 During solo play Tails is controlled by the AI and just follows you around like a puppy dog, but you can also use him to pull off some team moves like him lifting you through the air using his helicopter-like tails, or a powerful combined spin dash move that will blast through enemies and obstacles like butter. These team-up moves are designed to be necessary to pass certain parts of the game, and add some nice variety to the platforming.
Speaking of level designs, I felt that the levels in Episode II weren't quite up to snuff with what was in Episode I. The general flow of a level is often ground to a halt due to an oddly placed dead end, and there are far too many underwater sections which really slow down the pace. That's not to say there aren't any bright spots, and in fact there are a lot of really fantastic interactive elements in the environments – like bouncing back and forth between the foreground and background, or snowboarding down a snowy mountain – that really break up the action nicely. Overall though, the levels really feel more choppy and slower than you'd like a Sonic game to feel.
One majorly cool addition to Episode II is the inclusion of the bonus Episode Metal content that will unlock if you have Episode I installed on your device along with Episode II. Episode Metal shows how Metal Sonic rises from the ashes after being defeated in Sonic CD, and follows his adventures through 4 reworked levels from Episode I leading up to his reintroduction in the story of Episode II. These levels are short, but it's incredibly fun to play as Metal Sonic and see just how he rises back to prominence to team up with Dr. Robotnik.
Another real bright spot for Sonic 4 Episode II is its visuals. It's an absolutely huge upgrade from Episode I, which despite not supporting Retina Displays was still a very good looking game. However, Episode II blows it out of the water. From the fantastic lighting effects to the parallax scrolling to the incredible water effects, around every bend some sort of new visual treat is waiting for you in Episode II. And, at long last, this includes support for Retina Displays on iPhone and iPod touch, though sadly not for the new iPad (though it still looks great on that device).
Much like Sonic 4 Episode I, Episode II is an overall enjoyable platformer with a few relatively minor quirks that hold it back from greatness. No, it's not going to replace any of the original trilogy's games as the greatest of all time, and it doesn't even approach the high level of quality of Sonic CD on iOS. But at this point, I think those are unrealistic expectations. The bottom line is that Sonic 4 Episode II is a great modern day 2D Sonic game, and I'd love to see a third episode that is inspired by Sonic 3 in the same way the previous Sonic 4 episodes were inspired by the original two games.
If you're a Sonic fan that can deal with the differences from Sonic's '90s greatness, or if you just like fun platformers in general, Sonic the Hedgehog 4 Episode II has a lot to offer and is a worthy entry in this new era of classically-inspired Sonic games.