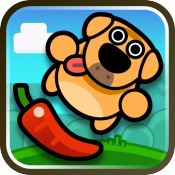 Big Pixel Studio's Off the Leash (Free) hit earlier this year, and basically did for tilt-based avoidance games what Jetpack Joyride (Free) did for the cave flyer. By that I mean it took a tried-and-true gameplay mechanic and fleshed it out to the max by dropping it into a game with attractive visuals, a mission-based progression, and tons of unlockable items and upgrades.
Yesterday a big update hit for Off the Leash that added some welcome new content to the game. The big ticket items are a brand new track and field themed location to perform your evasive dog actions in, and a new character named Charlie the Man Dog. Yep, Man Dog. He's a man dressed up in a dog suit in case you didn't gather that from his name, and he cracks me up to no end. He's also the fastest out of all the characters in the game.
The more minor additions in this update include a new baseball cap and an awesome Land-a Panda ($0.99) hat to buy in the store, a set of new missions bringing the total up to 99, and a couple of wallpapers to trick out your device. Off the Leash was loads of fun before, but new goodies are always a welcome addition. If you haven't checked it out yet you can grab it for free in the App Store, and be sure to check out our original review.