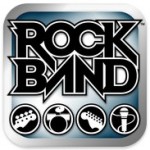 We just learned this week that one of the pioneering forces of both the freemium pay model as well as real-time online multiplayer, Eliminate, will be closing up shop later this month. Well according to RockBandAide.com right on the heels of that news it looks as if EA Mobile will be giving the same treatment to the original Rock Band ($4.99) iOS game, which we thought was pretty good when it launched towards the end of 2009.
The original Rock Band was usurped by the superior sequel Rock Band Reloaded ($4.99) in December of 2010, so it's not totally surprising that EA would want to focus on the newer version. However, for a game that many people have likely spent a good chunk of cash on by buying new songs through IAP, not to mention that it launched at $9.99 to begin with, it seems sort of crazy that EA would flat out make the game inoperable.
At the very least you would think that EA would be able to just leave the original Rock Band alone, so those who bought it and paid for IAP songs can continue to at least use it even if future updates aren't in the cards. Perhaps there's a reason for this, like a licensing issue with the music, but at any rate if you're still a fan of the first Rock Band on iOS you'll have until May 31st to continue enjoying it.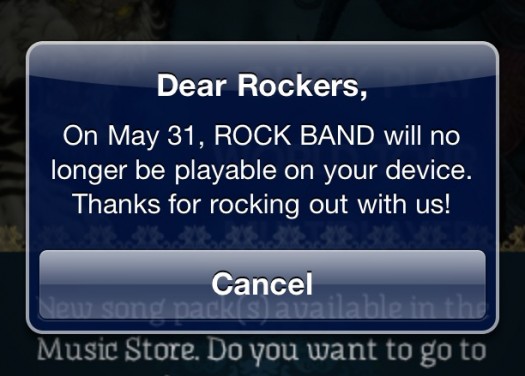 Servers being shut down and dropping support for games isn't a new phenomenon, but in the increasingly more digital age of video games you'll just have to keep in mind that the experience might be finite unlike physical copies of games which will last for eternity as long as you have the hardware to play it.
Note: I'm leaving the links for both Rock Band games in case you already own the original and want to re-download it for safe keeping, but obviously it won't work after the end of the month. If you want a Rock Band game for iOS go with Rock Band Reloaded (for the time being, anyway).
[Via RockBandAide.com]