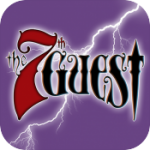 Trilobyte's The 7th Guest (Free) was among the first full motion video-centric PC games released following the dawn of the CD-ROM drive era. I had a horrifically underpowered Mac at the time that just barely stuttered through the game, but doing so is a gaming memory I'll never forget. Gameplay focuses around exploring the dark and mysterious puzzle-packed mansion of Henry Stauf. I don't want to spoil too much of it, since the whole experience is so much better if you manage to go into it fresh.
If you're already familiar with the game, you can check out our review where I get into some additional nitty gritty details. But, really, you should just skip all that noise and download the game anyway- Especially while it's free. As an additional bonus, The 7th Guest ($4.99) is also free on the Mac App Store. If you get stuck in either version of the game, give the Book of Secrets ($1.99) a look.
In our original review of T7G, we were a little bummed that the notoriously difficult microscope puzzle was nowhere to be found. The good news is Trilobyte later released this puzzle as a standalone game called The 7th Guest: Infection ($0.99) which is also free as part of this promotion. We posted some more details about Infection here.
Go go go! Grab these games now!