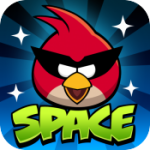 Rovio's Angry Birds Space (Free) hit the App Store close to a month ago, and we loved it in our review. (Shocker, I know.) The sole sticking point for us, and quite a few other people, was Rovio's implementation of a new IAP mechanic. Some levels were only available via a 99¢ unlock, which made us question whether or not Rovio would keep the free level updates gravy train rolling. Also, the Mighty Eagle shifted gears from a buy-once-use-a- bunch item like Angry Birds proper to a consumable IAP.
Well, an update just hit which addresses our suspicions. 10 new levels are now available for free, and the way the Mighty Eagle works has been slightly tweaked. Just by downloading the update you'll get a pack of 20 Mighty Eagles for free, and each day you'll earn one additional Mighty Eagle. This goes a long way in making buying the Mighty Eagle feel a lot more optional, but I still can't help but miss the unlimited use of the Mighty Eagle in completed levels like previous Angry Birds games.
But, whatever, if you just ignore the Mighty Eagle, Angry Birds Space is still a ton of fun, and highly recommended. If you've cleared all the initial launch levels, give these ten new ones a spin.