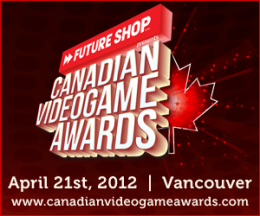 Late last month we mentioned that TouchArcade Game of the Year Superbrothers: Sword & Sworcery EP ($3.99) had been nominated for nearly every category it could vaguely fit in at the Canadian Video Game Awards. If you follow the development team on Twitter, this was spoiled over the weekend when the actual award show was held, but here's what Sworcery took home:
Best Game on the Go
Best Downloadable Game
Best Indie Game
Best Original Music
Innovation Award
These awards are selected by a jury, with the exception of Game of the Year which was a public internet vote kind of thing. (Game of the Year was FIFA Soccer 12, by the way.) What makes sweeping this awards show so amazing is that S&S was up against "real" AAA titles like Deus Ex: Human Revolution and Assassin's Creed Revelations.
If you haven't played the game yet, you're running out of reasons. Check out our review for more details. Oh, and if you know someone who might be interested in the game but doesn't have an iOS device, it was recently released on Steam as well.