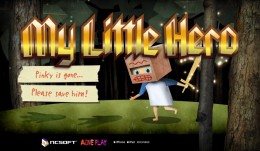 One of the all-time best platformers on iOS would have to be Acne Play's Pizza Boy ($1.99). Released back in September of 2010, Pizza Boy absolutely nailed the virtual controls thing on the touchscreen, and almost more importantly they totally got the "feel" right – that is, the weight and movement of your character as he ran and jumped through the world felt perfectly tuned, like a classic 2D Mario game.
We thought Pizza Boy was great when it hit, though it was a bit on the short side, something that was rectified a few months later. Now, after all this time since Pizza Boy's release, Acne Play, in conjunction with NCSoft, has announced their newest game for iOS and Android called My Little Hero with the following teaser trailer.
The problem with this teaser trailer is, well, that it's just one big tease. There's no gameplay shown and we're really left wondering what kind of game My Little Hero is. I guess that is the point of a teaser, right? At the very least our interest is piqued.
The only other information we've been able to glean from our forums is that My Little Hero is an action adventure title and we should be hearing more on the game in the way of screens and videos soon. Given how awesome Pizza Boy is, consider us excited for whatever My Little Hero turns out to be.