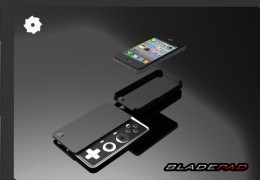 As more and more third-party controllers enter the mobile market, the wicked small base that wants something physical in their hands as they play games becomes steadily more fractured. It's through this lens that we view the latest controller to catch our all-seeing eye, the Bladepad. It's an NES-like controller with an admittedly cool hook: it's thin, slide-out design theoretically makes it possible for you to carry around the phone with the controller firmly attached. Other products, including ION's upcoming PSP-alike shell, obviously don't embrace portability like this does.
How it works is explained on its web site:
Bladepad's case fits around your phone and a razor-thin gamepad slides out from beneath the case. The gamepad can also be removed from the case for enhanced mobility and convenience.
No word on when this will be released, or if it's even actually in some sort of production phase. The page does mention that the company behind Bladepad is actively looking for developers to support the device, so get ready for some weird splintering or a lackluster show of support upon release.