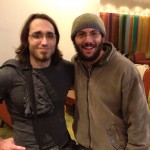 It's Wednesday, and with iOS developers free of the looming shadow of the Mighty Eagle with last week's release of Angry Birds Space (Free), you'd think there'd be some massive influx of releases… But, there really isn't. Thankfully, Ow My Balls! XL is coming out tonight, so that's something to look forward to, especially if you've got a new Retina-equipped iPad.
If you're wondering who the bros are in that photo, the guy with the incredible pecs is Brad Nicholson and the guy with the incredible everything else is Josh Michaels, the curator of the Ow My Balls! universe. Anyway, Ow My Balls! XL and all these other games should be released at 11:00 PM Eastern on the US App Store, or potentially much earlier if your App Store region of choice resides east of North America.
Dark Meadow: The Pact, Free – Forum Thread – A free to play variation of Dark Meadow ($1.99), which is totally worth trying out just to experience the atmosphere of the game. I'm anxious to see just how free to play this game actually is, as these sorts of premium to free transitions can be very hit or miss. Good news for owners of the paid version of Dark Meadow, the enhancements found in this version of the game should also be hitting tonight (or very soon) as an update.
---
Gnu Revenge, 99¢ – Forum Thread – A planetary physics puzzler from the dudes over at BulkyPix. We've yet to confirm whether or not this game has anything to do with Richard Stallman. (Unix jokes, sigh.)
---
Ion Racer, 99¢ – Forum Thread – A Wipeout-style fast-paced racing game. Since we'll likely never see a proper Wipeout for iOS devices, I'm always weirdly stoked to see these sort of Wipeout-likes.
---
Ow My Balls! XL, Free – Forum Thread – Finally, Ow My Balls! (Free) is available for the iPad, in glorious Retina Display resolution. The iPhone version has been downloaded millions of times, and both versions of the game are totally free with a single 99¢ unlock for some extra stuff you really don't need. Or, as the developer describes the price: "FREE. None of that coin bullshit either. All we want to do is make the world laugh, and maybe get 70 cents dropped in our little styrofoam cup every once in a while." I can get behind that.
---
Rinth Island, 99¢ – Forum Thread – This puzzley platformer from Chillingo is giving me some serious Fez vibes with how its 2.5D graphics rotate around. Maybe that's just me projecting how badly I want to play Fez.
---
Streetbike: Full Blast HD, 99¢ – Forum Thread – The iPhone version of Streetbike: Full Blast ($0.99) dropped on the App Store a while ago, but if you were waiting to get your iPad motorcycle racing on, here's your chance.
---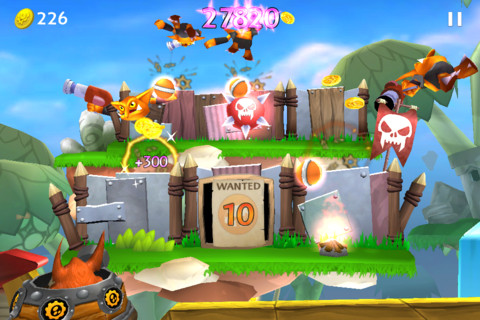 Skylanders Cloud Patrol, 99¢ – Forum Thread – An arcade shooter from Activision based in the Skylanders universe? Very interesting…
---
The World's Strongest Man, $2.99 – Forum Thread – No word yet on whether or not our own Brad Nicholson is a playable character in this game, but he should be. Digital Goldfish, get on that.
---
Violet Storm 99¢ – Forum Thread – If you watch the first few seconds of the trailer, you'll be like, "Oh, another Geometry Wars style shooter, yay." …Then you watch it to the end, and can't wait to get your hands around it.