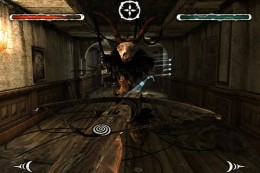 Per Joystiq, Phosphor Games' highly atmospheric Infinity Blade-like Dark Meadow [$5.99] is going free to play. Unfortunately, instead of a standalone free to play version, the existing Dark Meadow will have its price dropped to free, with IAP taking the place of the previous $5.99 price tag.
In my experience, taking an existing "premium" title and shoehorning the free to play business model into it never, ever, ever turns out well. If you've ever owned Dark Meadow, and think you'll ever want to play it in its non-free to play form again, be sure to download it as soon as possible, sync your device, and backup the actual .ipa somewhere safe.
Joystiq mentions owners of the pre-freemium version of the game getting an "exclusive upgrade" when the game goes free. We've heard this "exclusive upgrade" involves removing the planned in-game ads and a bucket full of the IAP currency to spend. We'll have to wait until the update lands to see how good of a "deal" this is for existing owners, but, regardless, backup that .IPA file if you know what's good for you.
[via Joystiq]