Out at GDC 2012 I sat down with publisher Ayopa Games and, in the time of an hour, ran through seven different titles in a sort of marathon session. It was a lot to take in, but there are some real stand-outs here.
Some are new, some are updates. Let's have a look.
MacGuffin's Curse
Created by Brawsome and Green Stripe Snake, MacGuffin's Curse is a game that falls under the category of Werewolf Comedy Puzzle Adventures. It is the tale of out-of-work magician and (hence) not-so-cunning thief Lucas MacGuffin who attempts to rob a museum to pay the rent, and finds himself bound to a magical amulet with the power to turn him into a werewolf (and back again).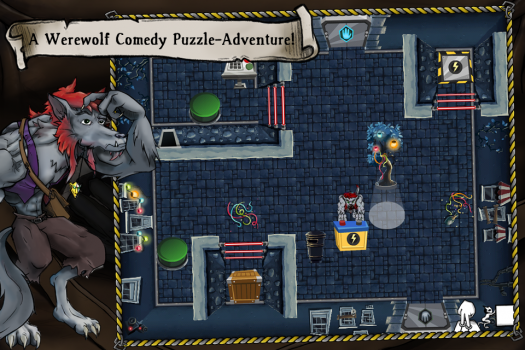 The game consists of 150 different rooms across 11 different environments, such as junkyards, parks, mansions, museums, etc. Each room is its own grid-based puzzle that must be solved using Lucas in either human or werewolf form — or both (walking into a beam of moonlight triggers the transformation). In addition to the 150 core puzzles are around 100 secondary features / quests that serve to add variety and keep Lucas especially busy at all times. In the end, the ultimate goal is just to get the cursed amulet off of poor Lucas.
In a nice touch that retro gamers will enjoy, the soundtrack is available in chiptune format, sampled from a real SID-based C64, and can be accessed via an in-game home computer setup.
MacGuffin's Curse won the Best Writing award at the 2012 Freeplay Independent Games Festival and will be available on April 19th as a universal iOS app as well as on Mac and PC.
Escape from Age of Monsters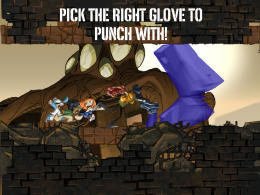 In the fall of last year, Massive Joe released Age of Monsters, as sort of ultimate rock-paper-scissors game, to high praise. The studio's upcoming Escape from Age of Monsters is a follow-up title in the form of a side-scrolling, endless run-and-jumper. The game sets you, poor Gizzard, and a group of orphans on the run from a horde of hideous creatures from all corners of the multiverse. You must tun through crumbling buildings, punch through walls with your magic gloves (and perfect timing, if you have it), jump from building to building, collect bonuses and power-ups, and battle bosses. With any misstep, the monster get closer and snatch up an orphan. Once all the orphans are gone, the next mistake is your neck.
As mentioned, there are walls to smash. There are also fireballs to whack, and both of these actions are color-specific; one glove is red, one glove is blue, and the right glove must be used at the right moment. The whole thing has something of a rhythm component to it, and in some sense Guitar Hero is brought to mind. The music in the game is provided by the Okai Sisters (nee The Binges).
Escape from Age of Monsters will be released as a universal app towards the end of April, with price as yet undetermined.
Pocket Heroes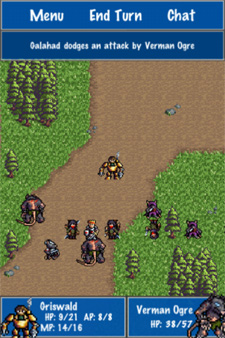 At last year's E3, our own Eli took a look at F5 Games' Pocket Heroes and said "whoa, now that's really cool." And he was a hardcore D&D player. After checking out the title, here eight months later, I can tell you things have only gotten better.
Pocket Heroes is basically "Quest With Friends," a Words With Friends-style RPG. It's multiplayer-only and allows up to four players to share an asynchronous adventure within a push-powered fantasy world laden with steampunk detailing. There are 20 different types of enemies (spiders, skeletons, ogres, etc.), six character classes (human paladin, dwarven mechie, elf rogue, and the like) with more to come in the future, and 10 different character levels. The whole thing has a pixellated, retro look to it (it takes place in the world of Altair, after all…) and is arranged something like the early Zelda titles.
Pocket Heroes is set to arrive at the end of April and is being discussed in our forums.
Patchwork Battles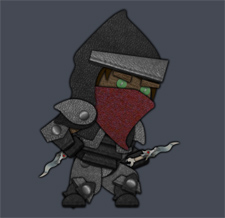 Coming this summer from Patchwork Games is a rather unique RPG strategy title known as Patchwork Battles. The game puts you in control of "mimics," which are on-screen characters made of a patchwork of various materials — cloth, tinfoil, and leather. You, the player, take the role of a young man that is part of a family of Animators, magicians able to breathe life into the inanimate mimics. After finding an ancient tome in his attic, he reads through the story of his forefathers and begins reenacting the battles of past ages with his mimics.
Within the game, there are eight classes of four characters, in all, rendered of different physical material. Each mimic consists of a heart or core, along with five surrounding body parts. Parts can be exchanged between characters to push their abilities in a certain direction. Each part can also be imbued with spells to enhance capabilities.
The version I saw demonstrated was obviously in the early stages of development, but what's there so far is intriguing. Patchwork Battles will release as a universal iOS app, and eventually make its way to Android, Mac, and PC.
Mailmen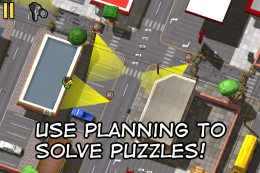 From Sandstorm Interactive comes the iPad-only stealth puzzle game Mailman [App Store], which challenges you to get the mail delivered on time in the face of adversity. And, in Mailmen, adversity comes in the form of neighborhoods full of vicious, roving dogs — the mailman's bane.
The game sets three mailmen, Johnny, Charlie, and Dave — each with their own special abilities — to pick up mail, deliver it to various marked destinations, and get back to the base without being torn to shreds by the aforementioned dogs. Why are the dogs in this town so vicious? It's to do with the enraged, psychotic ex-mailman Newman (get it?), who controls the dogs in a bid to make life near impossible for the poor letter carriers.
In order to succeed, teamwork must be used to combine the various abilities of the three mailmen in question, in order to overcome the carnivorous canines. Dogs can be tied up, deceived with fire-hydrant costumes, and left puzzled by a quick up-the-tree getaway. A sort of achievement system that's really more of a "collectibles" arrangement rewards skillful play and a benevolent hint pigeon can be called upon to aid when things seems hopeless.
Mailmen launched a few days back as a universal app and is available at an introductory price of $0.99.
W.E.L.D.E.R.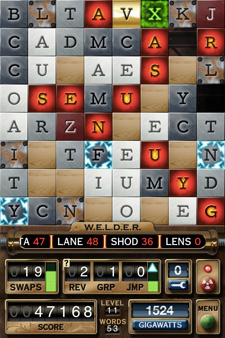 Back in November, we reviewed word-creation puzzler W.E.L.D.E.R. [App Store] from Highline Games and were impressed. W.E.L.D.E.R. (Word Examination Laboratory for Dynamic Extraction and Reassessment) is a game that can perhaps most easily be described as Scrabble meets Tetris. The game features an 8×8 grid which is full of letter tiles. The idea is to form words with four or more letters, by moving letter tiles around in various ways. The "Basic Swap" involves tapping any two neighboring letters (horizontally, vertically or diagonally adjoining) so they swap positions. The words must be written from left-to-right or top-to-bottom, much like a crossword puzzle. There's no time limits, although a certain number of words must be formed to complete each level. When you form a word, the involved letter tiles disappear and any letters above cascade down to fill the gap, including new, off-screen letters.
Britt Meyers of Highline demonstrated an update to the game that recently landed, adding Gigawatt tiles for super scoring, new optional in-app purchasable items, overall balancing tweaks, an Undo button (iPad only), and various other improvements.
W.E.L.D.E.R. has known the distinction of iPhone Game of the Week and was the top selling iPad paid game, near its release.
Dungeon Crawlers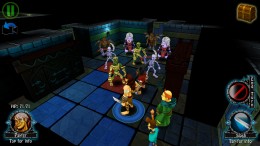 Early this year, Drowning Monkey released their aptly titled dungeon crawler Dungeon Crawlers [App Store]. The game is a visually well-done strategy role playing game that's filled with witty humor, such as numerous Ghostbusters references (the main characters are Roy, Aegon, and Payter…) and the like.
Your band roams through the game's various chapters and levels, encountering characters of all sorts, doing turn-based combat, amassing fortune, and leveling up. We reviewed Dungeon Crawlers shortly after its release, and really liked it, but felt that things moved along a bit too slowly for many players. The turn-based battle sequences tend to drag on in a fashion that may lead to frustration.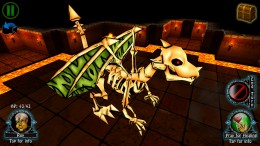 Drowning Monkey has recently released a v1.1 update to the game that brings a new chapter with three new levels, making for 5 chapters and 15 levels in all. A major addition is an in-game store where gold found in the dungeons, gained in battle, or purchased through IAP can be used to buy weapons, armor, and power-ups. The store offers over 250 items, in all. Additionally, a new "Select Level" option has been added so that players can easily go back and re-play a level with ease.
A v1.2 update that will bring online leader boards and an Arena Mode is already in development.