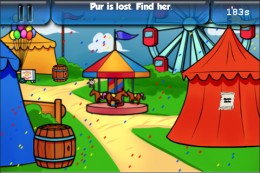 At some point in April, the sequel to Are You Quick Enough, an aptly titled game that goes by the name of Are You Quick Enough 2, will hit the App Store. If you're not in the loop, Are You Quick Enough is a furious collection of brain and reaction mini-games that are split across dozens and dozens of levels. The sequel is much the same.
In a brief demo this afternoon, we played through a flurry of mini-games, including a simple match-the-boxes romp, a dexterity-based shoot-the-robbers firing range, and even a tap-to-break-the-pinata song and dance. Mini-games literally take seconds to finish, and each can be re-tried infinitely for higher rankings.
This is a family-oriented title, so don't expect this to be the next WarioWare. For what it is though, it's pretty neat. We look forward to its release.