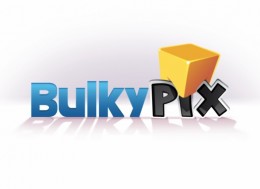 Today at GDC 2012 we sat down with the folks from BulkyPix to have a look at a host of new titles they will soon be releasing, both internally developed and those from outside development groups.
The SandBox
The SandBox, which BukyPix co-produced with Pixowl, is a charming little pixellated 2D world-creation game — and, by world, I mean the space inside of a literal sandbox. The player starts out with the four basic elements and combines them in an on-screen sandbox to create vastly more elements — 40 or so — and, with those, worlds limited by the player's own imagination (and the bounds of the iPhone or iPad screen).
There is both a story mode with ~30 levels (which serve as a kind of tutorial) as well as a free play mode, which is where the real creation can take place. Once a world has been created, it can be shared with others online, through the game. Players who download others' levels can then have fun, oh, inserting TNT and other nice little items into them and watching the fireworks unfold. New element packs can be purchased with mana, the game's virtual currency, which can be accumulated with skilled play or purchased for cash through the app.
The SandBox is being discussed in a lengthy thread in our forums and will be released as a freemium universal app in May.
Lightopus
"When the Gloom came, we were unprepared. They took away everything, including our homes and our young ones, the bulbies. They took away our light. Now the time has come to take back what's ours. Go, Lightopus. You are the last of our kind. Go into the Abyss, save the bulbies and bring back the Light!"
Thus is the story of Lightopus, a game which challenges the player to steer a strange creature through an aquatic abyss on a mission to save the tiny bulbies in the face of an increasingly menacing enemy horde. The visuals and accompanying ambient audio are similarly eerie and deliver an ambience reminiscent of the PS3 title Flow.
Lightopus is expected to go live on Thursday of this week as a universal game at the price of $2.99.

Kung Fu Rabbit
Internally developed at BulkyPix, Kung Fu Rabbit is a cartoonish platformer that puts you and your on-screen rabbit on a quest for carrots. Carrots are the game's virtual currency, and the more you grab, the more game perks you have access to, such as the ability to skin out the levels to entirely change their look. While carrots can be accumulated by standard play, they can also be purchased in-app for cash.
Kung Fu Rabbit brings the standard mix of platformer features — the ability to jump off of walls, enemies that can be crush with a jump (Mario style), and substances to avoid (a tarry goo and the like). The game is a universal app that features iCade support and is set to arrive on March 15 for $0.99.
Saving Private Sheep 2
Like its App Store forerunner which we enjoyed, Saving Private Sheep 2 is set to bring a silly / fun play experience to the iOS screen. The game's challenge is one of trajectory, much like that of Angry Birds.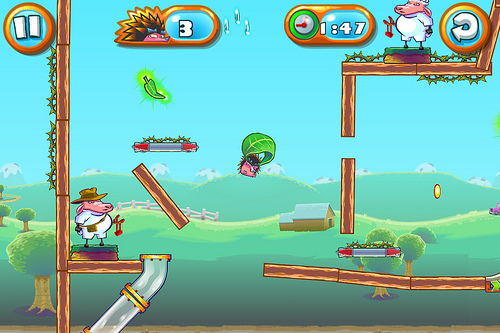 As it turns out, a wolf has eaten some sheep pals and it's up to your sheep (and uneaten friends) to aim precisely and toss a (poor, little) hedgehog through various structural arrangements in order to whack the wolf and free the sheep that were recently a meal.
The game features a level creation tool that allows users to create their own set of obstacles to augment the 60 built-in levels and upload them for others to play. The catch, however, is that the player must be able to win their own level before they go online. Levels placed online can be ranked by other users, to create a curated set of challenges.
Aby Escape
In the area of 3D run-and-jumps, BulkyPix demonstrated Aby Escape, a title co-produced with Spanish game studio Pixel Ratio. The game puts you over the shoulder of a purple raccoon that has managed to piss off a bunch of locals who got into hot pursuit of the pesky varmint that is you. In a bid to escape with your hide intact, you must run, jump, duck, dodge, and slide your way to freedom, collecting coins on the way, in a fashion with which Temple Run fans will be quite familiar.
Aby Escape features a story mode with three different settings — a forest park, a city, and Route 66.5 — at 10 levels each, as well as an unlimited running play mode. Little in-game objectives surface during gameplay to mix things up in a manner similar to that of Tiny Wings. The game can be expanded with power-ups and environment enhancements using coins collected or purchased in-app.
Aby Escape will land as a universal freemium title, sometime in May.
Hidden Runaway
Building on the long-running Runaway point-and-click adventure series from Péndulo Studios, Hidden Runaway for iOS, which BulkyPix co-produced with Péndulo, brings a Monkey Island-like mystery to iOS. The game features a hidden object adventure dynamic, wrapped in a thick backstory, peppered with 12 different mini games.
The title will launch for iOS in May and will also be making its way to OS X and Windows PCs.
Yesterday
Another point-and-click adventure from Péndulo, co-produced by BulkyPix is Yesterday. This one is also a Monkey Island sort of game, and places you in the role of a depraved serial killer who must try and piece together just what happened over the last 24 hours. Unsurprisingly, it's a very dark title, exuding an eerie ambience.
Yesterday, which offers around nine hours of play time, will arrive in the App Store in May and will arrive on the Mac and PC sometime beforehand. Price on this one is undecided as yet.
Gnu Revenge
Developed by Vaze and publishde by BulkyPix, Gnu Revenge is a cartoonish planetary gravity game that drops you into a universe of long-running galactic conflict between the gnus and the crocodiles. You, on the side of the gnus, must fire gnus from orbiting cannons with utmost precision in order to rescue your imprisoned ungulate brethren and knock out your despicable crocodile enemies.
Gnu Revenge is a universal title that will arrive at the end of March at a price of $0.99.