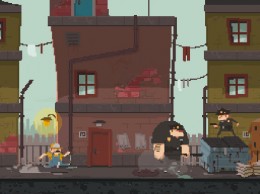 It's never a good time for iPad and iPhone developers to talk about the games that have influenced their upcoming products. There's a fine line between iterating and outright copying, and a lot of iOS studios and consumers don't seem to understand the difference.
Making matters worse, Zynga and Glu Mobile made some waves earlier this month by straight-up ripping off Tiny Tower. The proximity of this wretched news makes influence conversations even more touchy than usual.
And so our conversation with the three guys behind The Other Brothers, Thomas Pasieka, Matthew Davey, and Bjorn Hurri, got off to a shaky start. In an attempt to glean what the visually gifted game actually mechanically was, I decided to ask about its obvious influences. I was met with pretty guarded responses.
iTunes Link: The TouchArcade Show
Zune Marketplace: TouchArcade.com Podcasts
RSS Feed: The TouchArcade Show
Direct Link: TouchArcadeShow-Bonus-032.mp3, 19MB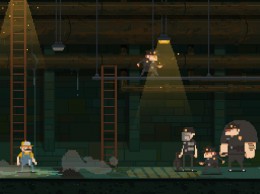 Here's what it takes from, though: there's a little of Sonic and Mario, of course, but there's also an alluring amount of old-school SCUMM titles; the look of games like Maniac Mansion and Secret of Monkey Island have had varying amounts of influences on the art style.
"Everything in the game is almost a culmination of all sorts of other games that we all enjoyed growing up," Davey told us. "It's almost like we're shouting out to every game developer that we know and have played their game."
"It's really not one specific thing that we're going for or are doing. It's just a culmination of everything."
If you look closely, you'll notice everything in The Other Brothers has a slight bend or bow, almost as if the art dude, Hurri, is plainly torturing everything in a given scene or level. This treatment turns creates an overall funky look that calls back subtly to the LucasArts titles the developers love and respect, but it's also a style that Hurri hopes will appeal to kids.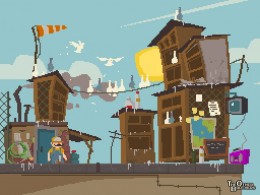 "I really didn't want to have it strict. I wanted to have it playful and approachable for everyone," Hurrie said. "So, even kids will like it. Kids like funny shapes and bright colors," he added. While The Other Brothers is something we're all interested in, it's being designed from top to bottom for everyone — the casuals, the kids, gamers.
A lot of the "influence" part of the interview ended up on the cutting room floor. Podcasts tend to have feeling out periods, and we jumped into it too fast. In hindsight, I see why we had such a tough time sizing up each other. This is an amalgamation of a lot of games and it's a project that was conceived specifically to satisfy a lot of wants and desires from all three developers.
There's another, much more compelling reason. This project is a passion project; The Other Brothers dear to these guys in a lot of ways, so they're OK with being fiercely protective.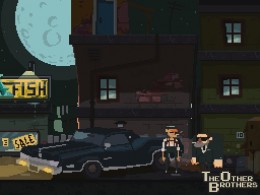 You see, Hurri, Davey, and Pasieka are all contractors. They work on game assets or very specific points of design and rarely, if ever, have any meaningful creative input into the things they create or manufacture. Hurri is a lead artist at an outsourcing studio; Davey worked on educational and government games, as well as MMOs; And Pasieka is a 3D modeler for Disney and Warner Brothers.
The Other Brothers represents a chance for these guys to do their own thing, to be able to put their own spin on a project with no overhead and no-one to tell them that it what they want to do can't be done because of budget or time or whatever else. This is their game, their creation, and it's very special because of that.
"Most of us have worked on other people's projects and have had very little creative direction or creative control or even, in my case, programming control," Davey, the code junky, told us.
"So, being able to just sit down and spew ideas and say, 'Hey, wouldn't it be great if we did this?' Just knowing it's just three of us making the decision, that there's not someone above us going 'well, you know that's going to take an extra week of work; we can't afford that' — it's freeing as an experience."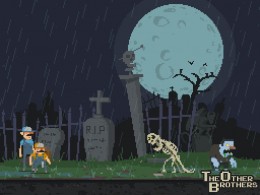 "It makes us happy to do what we do." Pasieka also described this as a "freeing" kind of experience and Hurri agreed, too.
So, how do these guys work together? This is a collaboration, and they all have jobs, so there are no meetings or set times. They message each other constantly, sometimes poking and prodding about Feature A or Feature B or Mechanic C or Mechanic D.
"We are all doing this in our spare time," Hurri said. "I'm a family man, so I've got to sit and work at night while everyone is sleeping. There's bound to be funny ideas and stupid thoughts because you're sleep deprived and doing work."
"I just want to make a really fun game for everyone — for me to play, for my kids to play, and everyone I know to play. It's pure bliss to sit and noodle on it."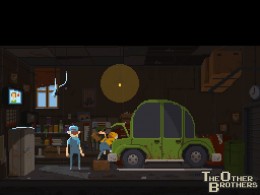 Passion, more so than time, plays such a huge role in this project. No-one summed it up better than Davey in the interview.
"It's nice to have a game that's our own — a lot of the time we can't talk about the games we work on because most of us are just contractors — it's really nice," he told us. "It's just a very blissful feeling."
"Having my son look at my game and go wow, I want to play this is a neat feature, a neat moment as a developer."
The Other Brothers is due out at some point this summer. iOS isn't the only platform it will hit either, though we're guessing it's obviously the lead.
We'll hopefully be talking a lot more about this game as it gets closer to release. If you want to listen in on this podcast, definitely do so via the links at the top. Other topics we cover include the media frenzy over the game, how this isn't a point-and-click, and a lot of other cool stuff.