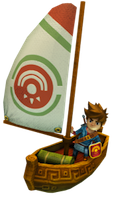 Check this: footage of Oceanhorn, the Cornfox & Brothers adventure game joint that seems to resemble the best Zelda ever in both style and tone, is now available. We've embedded the video just below for your viewing pleasure and aren't worried in the slightest that it will be pulled despite being labeled as a "secret" video. This is a PR stunt for a title that made waves when first announced, and hasn't seen substantial coverage since.
We're not complaining, by the way. We want to see more and realize that Oceanhorn: Monster of Uncharted Seas could be a big deal when it hits later this 2012. Not only is it fascinatingly gorgeous, but it's also mechanically and functionally inspired by Zelda. The world desperately needs more of these kinds of games, and if these cats can pull it off, a lot of people are going to be very happy.
Also, in entirely unrelated but sort of related news: If you're into Wind Waker, check out this fan-made imaginary Wii U sequel trailer that just hit YouTube and is blowing up all over Twitter. Bananas!