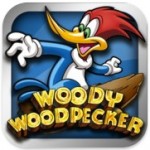 Woody Woodpecker has his own star on the Hollywood walk of fame, his own famous theme song and a distinctive laugh (ha-ha-HA-ha!   Ha-ha-HA-ha!), but old Woody hasn't had much press coverage in recent years. So he's trying to make a comeback, with his new iOS game published by Chillingo.
Woody Woodpecker [99¢] is basically Tiny Wings [99¢] turned into a side-scrolling race between five cartoon characters across a curvaceous landscape. And like most Chillingo releases, it's nicely presented. You choose which of the five characters to race as, with each having their own "vehicle" and special weapon.
You might choose Woody on a skate board launching missiles, Winnie Woodpecker on skis spraying perfume or perhaps Buzz Buzzard on his motorcycle splashing around black oil to slow down the opposition. Each character has slightly different attributes for speed, acceleration and handling, but this doesn't make much difference, as it's pretty easy to win races. This game would definitely benefit from more challenging difficulty levels.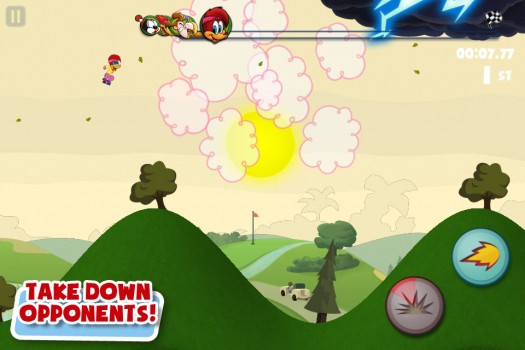 The main controls are based on one finger, much like Tiny Wings. You hold your finger down to accelerate while descending and lift your finger when moving up-hill. Buttons are available to activate your character's special weapon or for speed-boosts, both of which re-charge before re-use.  There are options for left/right hand controls, although strangely, you must display "left hand" for right handed taps.
Two game modes are provided: Single-player race, or online multiplayer via Game Center. The multiplayer mode randomly matches you with one opponent. My first race was Woody versus someone else playing as Woody. Since then it's been difficult to find a random online opponent (there's no option to play a specific friend).
The thirty single-player levels are spread across three locations. You start on the golf course, but can unlock the snow-covered slopes of the Arctic and Circus levels by winning races and earning "thumbs-up" awards, which is essentially the 3-star achievement system used in many games. On the golf course, there are sand-traps to slow you down and lightning clouds to shock you. While in the Arctic levels, the characters are given skis. You can switch characters between races as it doesn't matter which character you use to beat each level.
Scores are based on the number of slides, tricks, mayhem (swooping on non-race characters), time and points gained during the race, all of which contribute to your "thumbs-up" rating. But if you don't place in the top three, you don't receive a score. High score leaderboards are provided in both Game Center and Crystal, with a separate leaderboard listed for each of the three race locations. But don't rely on the on-screen progress indicators to see how you're doing, as they frequently misreport your position.
Woody Woodpecker is an easy game to enjoy (like Tiny Wings) and has a special nostalgic appeal. However, whereas Tiny Wings had islands to reach and evolving objectives to satisfy, this game has neither. Sure, there's levels and worlds to unlock and a few Game Center objectives, but the character attributes aren't upgradable and the wins come too easily. It would be more satisfying if the various characters, means of transport, and weapons were unlocked along the way, rather than all provided from the start. Overall, a good game, but just for a couple of days or for the kids.