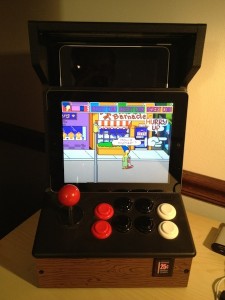 Emulators have had an interesting history on the App Store, to say the least. There are a few emulator apps that have received Apple's blessing, namely Manomio's Commodore 64 [$4.99] and a choice group of similar emulators. More often than not though, they randomly appear, having slipped through the Apple approval system, then are quickly pulled. Right now we've got no clue which side of the fence iMAME [Free] is sitting on, but it's free, so there's absolutely no reason not to download it just to have it.
iMame comes preloaded with nine less than stellar ROMs to play, but the real interesting part is going to be whether or not it's possible to side load other ROM files into the app. I've been tinkering around with various tricks to load other ROMs into the app that have worked in other instances of similar emulators on to the App Store, and so far haven't had anything work. Regardless, I give it about two hours (or potentially much less) before someone figures it out, and a few hours after that for Apple to pull it from the App Store.
Go go go!!! I'll keep this post updated as new things develop.
Update: It seems that the same method used to get games into iDOS also works in iMAME. Twitter user @mattlukens mentions, "Yep, add a .zip rom to the Docs folder through PhoneView and it works perfect! Just tried Crime Fighters!" He also provided a screenshot. The clock is really ticking now on Apple pulling this down.
Update: iMAME supports the iCade.
Update 12/23: iMAME has been pulled from the App Store.