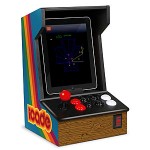 If you've had your eye on the Think Geek iCade either for you or as a gift for someone else this holiday season, Think Geek's Black Friday sale should make that purchasing decision a little easier. For a limited time, the iCade will be available for $59.99, down from the original price of $99.99.
If you're new to the whole iCade thing, you can find absolutely everything you'd ever want to know about the device by heading on over to our iCade page. You'll find closer looks at the iCade, as well as an exhaustive list of supported games, any associated reviews, and any iCade angle articles.
The Black Friday sale, somewhat obviously, only lasts for the day. It's also worth considering that there was a time when iCades were in fairly short supply, so it's hard to say just how many Think Geek has laying around for sixty bones. I don't really see them getting much cheaper than this anytime soon either.
Also, the Joystick-It iPad Arcade Stick is selling for $8.99 down from $24.99.