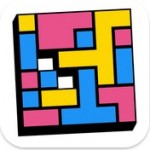 I think it's fair to say by now that KlickTock is a master of creating tiny slices of gaming. Three of the four iOS games the developer has produced have been delightfully tiny experiences that squeak in under two minutes — Super Search 60 [Free / $0.99], Doodle Find [Free / $0.99] and now ZONR [Free] all clock in at 60-90 seconds per play session. But while the older two are both simple (if charming) hidden object games, ZONR is something more interesting. It's also free, and (spoiler alert) by the end of this review I'll be telling you to download it, so you might as well get a head start.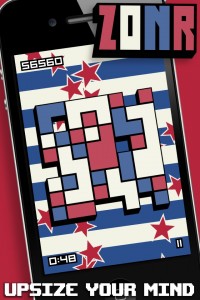 Here's how you play ZONR: You look at a square made of pieces that bear a passing resemblance to tetriminos. You decide in a split second which of those pieces is the largest. You tap it, and then you do it over again with a new square. You keep doing that for 90 seconds, and you're scored along the way. Dead simple, but when you tie in this game's bright, cheery art and a soundtrack by Disasterpeace, you've got something special in your hands.
I'm a new fan of Disasterpeace, having just fallen in love with a few of his songs from the upcoming non-iOS title Fez. But you might also recognize his work from the soundtracks of Puzzle Agent, Drawn to Life, or Bonk: Brink of Extinction. He's fantastic at conveying moods with retro-sounding chiptunes, and in ZONR, that mood is abject happiness.
As you play ZONR, the sounds play back with cheery notes that fit beautifully with the music. So each time you correctly choose the largest piece, you're rewarded, and each time you miss you're punished with a discordant note. The screen shakes, flashing red, and worse – your multiplier falls. This is one of those arcade games, the ones that let you build up incredible scores by playing perfectly, but that will grab that score back as soon as you make a mistake.
Precision isn't enough, though. As you play, that 90 second time limit counts down. So you're pressed to find the biggest piece over and over as the pieces get smaller and smaller, and you need to do it perfectly and quickly. It's a challenge.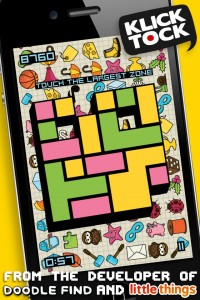 And that challenge is fun to rise to, frankly. As you improve, you earn Game Center achievements, but more importantly you unlock new skins. Not only do the skins change up the look of the game, they also raise the difficulty. It can be challenging to trust your spatial judgement when you've got the standard bright, colorful art to work with. But change everything to black and white or different shades of blue and things get much harder.
There are eight skins to unlock in various ways. Some are rewards for high scores, some for earning high enough combos, and some for playing enough games. You can flick through them by swiping around the menu screen. One can be bought for $0.99, and that purchase also rids the game of its single banner ad, which is otherwise present whenever you're not playing. Another is unlocked if you have Doodle Find on your system (which is a darling game on its own, and well worth a free download).
Ultimately, ZONR is a simple game. It's a fun way to test your reaction speed, and it does a great job of motivating players to keep pushing their high scores forward. But the slick interface, colorful art and cheerful soundtrack boost it beyond the confines of its gameplay, making it a great choice to pull out whenever you have a good 90 seconds to kill. If you like it, share your thoughts in our discussion thread — and swing by Bandcamp, where you can grab the soundtrack at any price you'd like to pay.