I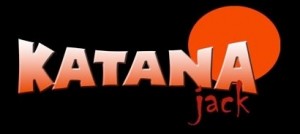 vanovich Games, who have previously brought the Operation Wolf-inspired gallery shooter Operation Wow [Free/HD] to the App Store, are at it once again with their homage to the classic arcade-style platforming game Bomb Jack, called Katana Jack. Just the news of a new Bomb Jack style game coming to the App Store is reason enough to get excited, but even more interesting to me is how Katana Jack has been developed. All of the artwork in the game was created using the excellent Brushes [$4.99/HD] app on an iPad, and the music was also composed on an iPad using GarageBand [$4.99].
Now, I absolutely love the Brushes app, but I've never personally been able to create anything with it that didn't look like I drew it by haphazardly dragging my nose around the screen. I have a ton of respect some of the amazing art people are able to make using the app, and as demonstrated in the following video Katana Jack's visuals are just that much more impressive considering how they were created.
Katana Jack is set to launch on November 17th as a Universal app for just 99¢. It will feature 90 levels across 15 hand-painted environments, and will include two game modes, Game Center, iCade support, and iCloud integration. There will also be 28(!) included videos showing the behind-the-scenes creation of the game on the iPad, which is a pretty neat inclusion. I'll be anxious to see just how the game was made, as well as how good of a Bomb Jack clone the actual game is, when Katana Jack launches later this week. Be sure to stop by the thread in our forums for early discussion of the game.