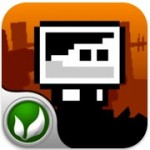 OrangePixel have a few iOS platform games under their belt. Back in June, we reviewed Meganoid [$1.99] calling it a quality retro platformer with responsive controls. In September, our review of Stardash [$1.99] highlighted the challenging difficulty levels and Game Boy style presentation. Plus they've released Super Drill Panic [$1.99] and Time Chaos [99¢]. Now, OrangePixel has released their latest action platform game, named simply: INC [$1.99], which is probably my favorite of their releases.
INC uses a comic-inspired silhouette art style which immediately captured my interest. Your character is a square with legs and blinking little eyes who runs, jumps and shoots his way through levels that are intentionally pixelated with rough edges. The graphics are 8-bit and chunky, with backgrounds reminiscent of Canabalt [$2.99]. And there's a chip-tune soundtrack, which is always popular in any retro platform game.
Another distinctive feature is that when you fire your gun, the word "Ratatat" appears above your weapon, much like a comic description of a sound effect. And if you hold your finger down, the gun automatically fires and many Ratatat's appear. But if you fire too long, the gun overheats and the word "Click!" displays. These little text captions are also used to convey storyline, to show enemies abusing you and to display on-screen hints.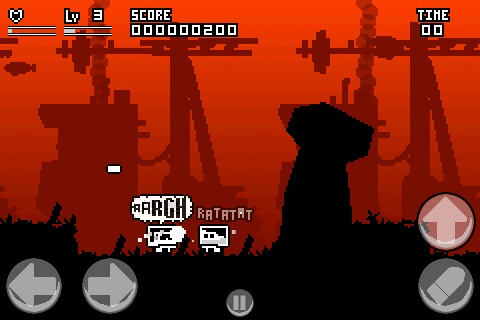 INC contains four different worlds, with forty levels in total, including boss fights against various machines.  To complete a level, you find and activate three signal boosters before entering the exit.  Sometimes the boosters are hidden in the terrain and only reveal themselves once shot, so part of the challenge is to locate them, which becomes harder in the later levels. Once a booster is activated, you can see its signal being transmitted.
This is another platformer with short levels, like Mos Speedrun [$1.99 / Free] where the goal is to complete each level within a limited timeframe. Although INC's levels are slightly longer and you're actually armed and dangerous. If you beat the target time you'll receive a one-star rating. The other two stars are awarded for killing all enemies and having extra lives remaining after completing the level.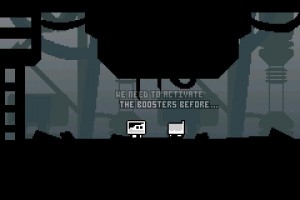 Along the way you encounter trigger-happy robots, flying enemy machines, clusters of small aggressive spiders, falling objects to dodge, switches to activate and objects to blast into position. By collecting "Credz" (coins) for points, you can boost your ranking on the OpenFeint and Game Center leaderboards. There's two ranking tables covering high scores and number of kills, plus 12 achievements.  Your progress is stored in the cloud via OpenFeint to allow device swapping without restarting (a fix for this has already been submitted, which also resolves the "no bullets" bug). Cloud saving is increasingly becoming a selling point for games.
By activating boosters, collecting "creds" and shooting enemies, your character's level bar slowly increases. But if you die, your experience lowers and might drop back down a level. Your weapon has three levels of upgrade (although the developers indicate they may add more), which is particularly helpful in the later levels.
There are two main control options available. The default is "touch based", which features left, right, jump and shoot buttons. The alternative is a tilt and touch combination, with tilting to move and buttons for jump and shoot.  Personally, the default controls felt fine on the iPad, however the buttons are positioned differently on the iPhone with some members of our discussion thread finding their placement awkward. As always, the safest way to keep gamers happy is to let them position their own buttons. INC supports  iCade and iControlPad, plus it works with the Joypad [Free] app, if you'd rather use your iPod or iPhone as the controller.
In our earlier reviews for both Meganoid and Stardash we mentioned that the menu systems didn't provide quick access to other levels or the main menu. Unfortunately, this game has similar issues. The game-over screen has no "exit to menu" option, forcing players to start another game and then exit via the pause menu. The level selection screen requires you to scroll through each level to reach the later levels. And although INC lists the number of stars achieved for each level, it doesn't clearly stipulate which of the three objective(s) are outstanding.
OrangePixel keep releasing platform games, as if trying to evolve the perfect platforming experience and INC is another step in the right direction. We wondered if their next release will be another platformer?  They responded: "We plan to do a horizontal-shooter first, but we also have plans for more platform games, because we simply love them!" That's sounds good to us, because we are always eager to get our hands on another solid platformer.