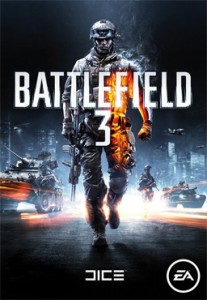 Hey it's Wednesday again, and time for another onslaught of iOS releases. If you're looking for something to do while you inevitably wait for the Battlefield 3 servers to come back up (if tonight is anything like last night), here are a ton of games to keep you occupied. Also, speaking of Battlefield 3, we've seen no sign of the Battlefield 3 Aftershock iOS title that EA has been teasing. I would have bet on that launching along side the PC and console versions of the game… But, I suppose that's why I don't gamble. If you want to get in on the iOS Battlefield 3 anticipation, head on over to this thread which seems like it has been going for an eternity in App Store time.
Anyway, it's the same old song and dance as last week, the week before that, and basically every Wednesday night. All of these games will be available on the US App Store at 11:00 PM Eastern. Although, if you live east of us, chances are they're available now, or will be very soon.
Blosics, 99¢ / HD – Forum Thread – Another popular Flash game ported to the App Store! But, the real question is, is there room on your device for another object flinging physics game? There always is on mine.
---
Candy Town, 99¢ – Forum Thread – Finally the age old question of what do you get when you combine a match three with line drawing mechanics and cup cakes has been answered. Ultra-casual match three titles often seem to do pretty well, and it wouldn't surprise me if that was the case with Candy Town.
---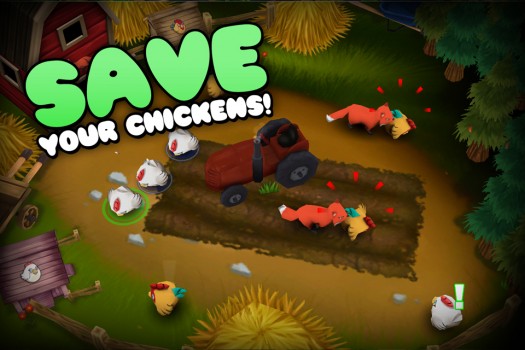 Chicken Coup Remix, 99¢ / HD – Forum Thread – I'm not entirely sure what is different about this remix other than a change in publishers from the original Chicken Coup [$1.99], but if you're crazy about sorting games and liked Chicken Coup, I guess Remix is worth a try.
---
Dawn of Magic, Free – Forum Thread – Cool trailer, check. Classic RPG gameplay, check? Price… Free? I'm anxious to give this game a try, and I've really got my fingers crossed that the IAP is actually optional, because there's nothing worse than getting invested in a cool RPG and hitting a freemium pay wall.
---
Flick Tennis: College Wars, $1.99 – Forum Thread – Now this is a curious game. I'd be onboard for the tennis alone, but they've thrown in RPG elements and a story told via an in-game comic book of sorts… And multiplayer? Alright, I'm in.
---
Modern Combat 3: Fallen Nation, $6.99 – Forum Thread – The latest modern military shooter from Gameloft. 13 levels including "AAA scenario-scripting," and 12 player online multiplayer with 6 maps and 7 different game modes.
---
Ninja Pong, 99¢ / HD – Forum Thread – I've always said the #1 thing missing from the game of Pong is ninjas, so thankfully we finally got that all straightened out. Gameplay amounts to moving a platform around to help ninjas jump around, and "Tiny Ninjas" is even on the feature list.
---
Peak Gold, 99¢ / HD – Forum Thread – This hooking game puts you to the task of collecting tons and tons of gold, which seems like as good of a task as any given the skyrocketing price of gold.
---
Riptide GP, $4.99 – Forum Thread – I've been really looking forward to this turbo-charged jet ski game. There's 12 tracks, 6 jet skis, 3 game modes, and stunts- Lots and lots of stunts.
---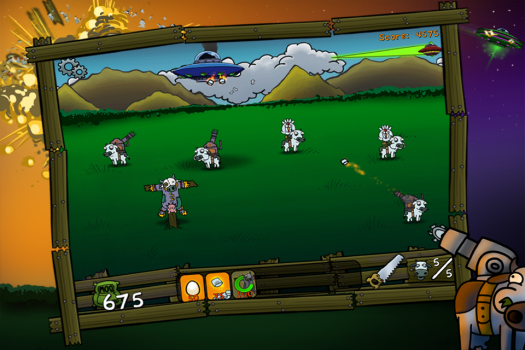 Saving Moo, 99¢ / HD – Forum Thread – The iTunes description of this game is remarkably vague, but what I can tell you is that the gameplay somehow involves cows defending Earth from aliens. Seems reasonable.
---
Shantae: Risky's Revenge, Free – Forum Thread – This game blew the doors off game critics on the Nintendo DS last year, and now it's available on the App Store. Better yet, it's free with a $2.99 unlock to get to the rest of the game so you can see if the controls jive with you.
---
SpinTrip, 99¢ – Forum Thread – This platforming adventure game focuses on rolling around the world utilizing power-ups called "Chibs." Check out the trailer to see all the different abilities you can have.
---
Tiny Token Empires, 99¢ – Forum Thread – A match three combined with a turn-based strategy game sounds absolutely crazy. So crazy it might just be totally awesome.
---
World Mosaics, $1.99 – Forum Thread – Like picross games and wish you had more of them on your phone? Well, you're in luck, because this is exactly what you require.