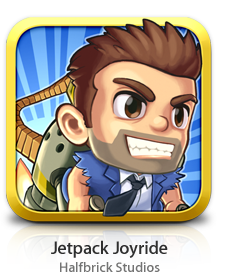 Apple has been doing a variety of crazy promotions on iTunes for, well, basically forever. Free songs given away in all kinds of ways, free apps through Starbucks, and now, apparently, promo code generation through Facebook? I don't understand the dark rituals taking place behind the scenes to extract promo codes from the ether, but here's what I do know:
Following this link and mashing a few buttons on Facebook will get you a promo code to download Halfbrick's Jetpack Joyride [99¢] for free. It's the first of a new promotion process courtesy of Apple, and I can't wait to see what else they end up giving away for free. Now, I've got no idea either how long this promotion is going to last, when it's going to rotate to something else, and how many promo codes there are to give away. This news is so hot off the press I burnt my hands.
Seriously, we love Jetpack Joyride and there is absolutely no reason to not take advantage of this offer. Also, it seems you can even generate a code if you already own the game, and then give that code to someone else.
Exciting times we live in.