I discovered tower defense late in my gaming career. I have no good justification for this. Perhaps I was too busy burying my face into all the RPGs and sidescrollers I could find. However, my intro game into the genre was PixelJunk Monsters, and if you gotta discover late, it may as well be with one of the genre's best entries. Ever since, I salivate Pavlovian-style every time someone murmurs the words "tower defense," and I had the same reaction when Gem Keeper [$2.99] was mentioned around the Touch Arcade office. I also was digging the fact that NCSoft made it, because I like them and I wanted to see how their skills would translate to iOS.
Like any proper tower defense title, Gem Keeper has plenty of levels to keep your building skills busy. 30 are available in total, and over the course of gameplay you have the ability to earn 14 different towers to use to strategically keep baddies out of your fortress. You'll start slow, with only a basic gunfire tower and a few bombs at your disposal. However, soon enough you'll be slowing em down with sticky goo and firing giant spiked cannonballs. I loved that you had the option to switch between Easy, Medium and Hard difficulty at anytime, even right before you start a level. Gem Keeper doesn't disappoint when it comes to the challenge either, but I'll return to that later.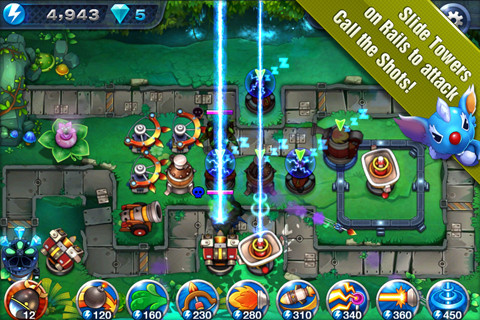 Everything about the presentation of Gem Keeper has the potential to vault it to the top picks of this genre for iOS. It runs smoothly and has very cute animations, but it still has a mature enough feel that adults won't be turned off by the look of it. It does feature many of the hallmarks of tower defense titles: you'll plant towers to try to ward off waves of enemies, you can upgrade or rip down your towers at anytime, and it increases in difficulty as you progress. However, one thing that it does that is unique is allow you to build towers on sliding rails, so as the waves come by, you can move the towers with a swipe of a finger so they keep getting fired upon. This is an excellent way to keep the player engaged, instead of just sitting there watching to see if what you've built is enough. This extra little bit of action was enough to keep me much more engaged than I am in the usual tower defense title.
The three stages (each has ten levels) are Forest, Ice and Mine, so you'll be able to enjoy different "themes", as they call them. One thing I noticed was that NCSoft actually went out of their way to make the Normal level decently challenging. Usually I zoom through them without a hitch, but by the time I got to the Ice world, I had to replay levels several times each to get a feel for what was coming and what towers had to be built and ripped down at what intervals. The game keeps you busy, and I really enjoyed that. You won't be able to just build a bunch of towers and boost them — you'll need to use your brain to figure out exactly which towers work for what waves and stay on top of building and breaking down; otherwise, you won't pass the level. In other words, it will keep you busy, and is an ideal fit if you want a challenge.
Gem Keeper is simply a stunner in both execution and gameplay, and I cannot recommend it highly enough. Whether you plow through the 30 stages of Adventure mode or go for Endless gameplay just to see how many waves you can fend off, this game is lovely to look at and even more fun to play. Tower defense fanatics, beware though — you're about to lose a lot of your free time.