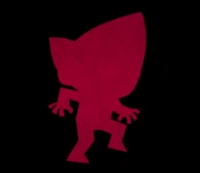 Bumpy Road [$2.99] developer Simogo is peeling a corner of the curtain off its next big thing. In a new teaser trailer released this morning, viewers are shown the briefest of glimpses at an array of whimsical characters, clocks, and other items clad in crimson and plastered against a black background. In the text of the video, Simogo teases that this unnamed project will have rhythm, puzzle, and stealth elements.
On our interview podcast, Simogo's Simon Flesser mentioned this game, but he was careful with the few details he shared. Regardless, we came away from the whole of the conversation believing that the studio was primed for another App Store success. Simogo gets what makes an iPad and iPhone unique in the video games space, it understands simplicity, and it obviously has a ton of talent to spare. We're pretty stoked for this — whatever it turns out to be.
My guess? We're looking at game where you'll use music to guide an avatar sneakily through some sort of construct. Like, Metal Gear Solid Meets Rock Band. Or maybe this is actually Simogo's take on Waterworld 2 and I totally convinced Simon to make the game happen.