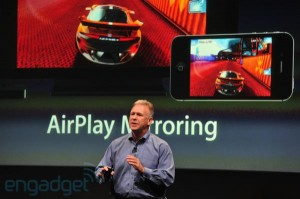 One of the many features that set Twitter ablaze with the announcement of iOS 5 back at WWDC was AirPlay mirroring. AirPlay had already been around for a while, and in its initial form allowed iOS devices to steam video to an Apple TV or audio to an Airport Express. Mirroring, as the name implies, mirrors the current display of your device on whatever video display you've got your Apple TV plugged into. Crafty developers have even figured out how to output a different image than the one that's being displayed on your iOS device, which is really cool in action.
Initially, AirPlay mirroring required an iPad 2 and when it was first unveiled it was never very clear if or when other iOS would have the same capabilities– Especially since Apple has made it abundantly clear that they still consider the Apple TV a "hobby" of theirs. Well, with the release of the iPhone 4S, which also comes packed with AirPlay mirroring support, it seems reasonable to assume that all future iOS devices will have the capability.
Unfortunately, without some killer software utilizing the functionality, it sort of seems like a gimmick– At least, so far. The selection of games that embrace the mirroring functionality in interesting ways are remarkably sparse. So far the best of the bunch seems to be Chopper 2 [99¢]:
As cool as AirPlay is, its main drawback for gaming seems to be a ever-so-slight but totally perceptible lag. Piloting the helicopter in the Chopper games seems to be almost intentionally floaty (it is a helicopter, after all). This seems to mask the lag very well, and using the iOS device screen for input is done well.
Comparatively, Real Racing 2 [$4.99 / HD] does much more with the actual iOS device screen, but the previously mentioned slight lag in controls makes just playing the game normally without the Apple TV seem much more fun. The multiplayer mode does feel like the future though:
Aside from the small bit of lag, it works really well, almost surprisingly so. I downloaded the game on my iPad 2, flipped on AirPlay mirroring, and hosted a local game. Seeing the same video output on my iPhone being routed through the iPad 2 and rendered on my TV wirelessly seemed like magic, especially as more iOS devices joined the race.
I'm so incredibly torn on this functionality right now. The potential it has is just incredible, especially in future devices and/or developer optimization of these games reduces the lag between the iOS device and the Apple TV. Once this delay goes from barely noticeable but always there to non-existent, I think it'll be totally easy to get onboard, and an Apple TV might even be required hardware for the dedicated iOS gamer to own. Right now though, I wouldn't encourage anyone to rush out and buy an Apple TV specifically to try out this new Real Racing 2 mode.
That being said, the Apple TV is a really cool device that is well worth the $100 if you've got an HDMI port on your TV and don't already have an Xbox 360, PS3, or even something like a Roku Streaming Player hooked up to it. If you've got an A5-powered iOS device, being able to do some neat things with an incredibly small (right now, anyway) library of games is just icing on the cake. Sure, you can duplicate all this mirroring functionality with the Apple Digital AV Adapter as well, but it's incredibly clunky hanging off the side of your device, and at $40, you might as well just spend another $60 and get all the added functionality of the Apple TV.