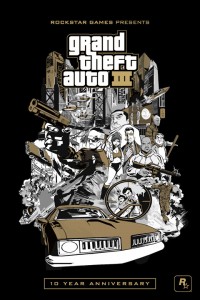 So far, the top note on my "Things I Didn't Expect To Hear This Morning List" is this: Grand Theft Auto 3 is coming to a smattering of high-end tablets and handsets later this fall. No, really — I have a list and, yeah, Rockstar Games announced plans to port its once-technical marvel to touch devices at some point in 2011 in celebration of its 10th birthday.
We don't know anything about Grand Theft Auto 3 for mobile, including what it'll look like or what price it'll launch at. The blog post announcing this 'big deal' bit of news is strangely focusing more on a new and limited run of $150 12-inch Claude toys with "30 points of articulation" instead of the game. But, hey, pre-orders for the toy are open now!
I've got a fantastic and equally unfulfilling love and hate relationship with GTA3, just as I do with every other GTA title. I love the bluster, the scale, and a good deal of the content, but the controls and general technical wonkiness of Rockstar's open worlds drag everything down. It'll be interesting to see if this tenth anniversary edition on handhelds will debut with an improvement or two. I guess we'll see.
Oh! And here's the devices you'll have to have in order to play it:
Apple iOS Devices: iPad 2, iPhone 4S
Android Phones: Droid X2, HTC Evo 2, LG Optimus 2X, Motorola Atrix, Samsung Galaxy S2
Android Tablets: Acer Iconia, Asus Eee Pad, Motorola Xoom, Samsung Galaxy Tab 10.1