I'm a bit of a closet Sims admirer. Not exactly a die-hard fan, but I appreciate what the series does in a lot of ways. I've still kept up with each release and although the iOS ones haven't been constantly solid, The Sims: Medieval [$4.99] still stuck out to me as playing to two of my weaknesses, wizards and sandbox play.
The most obviously different thing about The Sims: Medieval is the directed nature of it (aside from the setting, clearly). After picking your social type and designing your character, you're immediately struck upside the head with a few quests and tasks to complete that don't inherently feature screwing around, socializing and trying to make your Sim make kissy faces at other Sims.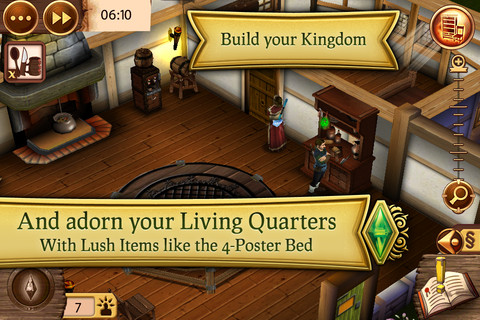 The experience simply isn't as random as most Sims games. For a lot of people, that's going to be a good thing, for others, it's going to completely defeat the purpose of a Sims game. The Sims: Medieval ends up playing out more like an extended version of Fable than a traditional Sims game, minus the hack-and-slash portions.
The game is designed around these new rules though, so it works surprisingly well. You'll spend most of your time venturing around the tiny village and completing tasks for people, which include the likes of fishing and the occasional fight. Your character will advance along depending on how you act, but unlike many previous games, The Sims: Medieval seems more interested in seeing you succeed on a larger level.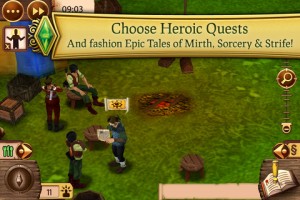 You'll still get the bulk of experience you expect from a Sims game — you can outfit your home (but not design one), socialize, fall in love, become evil, sleep, eat, and everything else, but the sandbox nature is played down in importance. It's all about forward momentum — you want to complete quests to master skills to become a wizard to join a party so you can run a castle. It's not as much about setting up a world with circumstances and seeing what happens.
It might be best to just describe the course of my Sims life. Upon waking in his house, he wandered off to complete some tasks, including picking flowers, starting a fight and fishing. Bored with such trivial things, he decided to instead concentrate on religion and in turn, began appealing to people to join his new religion, Thoronian. If the other Sims were not willing to join the cult, he would hit them — you can't kill people, unfortunately. Bored of these tasks, I sent him along to steal chickens, pickpocket and do otherwise dastardly things until he eventually built up enough rep to keep a kingdom of his own. He then married a fair maiden with a metal hat and a pike, and they slept together for all eternity.
The games shortcomings are on par with other Sims releases, music is repetitive and features far too much flute and some of the touch commands don't seem to respond very well. The larger town map is also a disaster to use, as the marked spots you can visit don't have obvious touch-locations to get to them. It's also iPhone and iPod Touch only, which is too bad, because The Sims: Medieval would be terrific on an iPad.
So, for all intents and purposes, lets call this a light RPG with mild sandbox elements — one that's trimmed a bit from its PC counterpart — it's a tiny, handheld version of a game that's already a bit scaled big from its originals. Still, it's one of the first truly different experiences of the Sims in a while and although it's a more directed experience, it offers enough new to keep casual players happy. If you're partial to medieval fantasy settings, this might be the one Sims title to really draw you in.