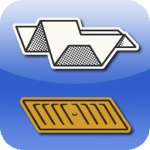 A few days back we posted word that John Calhoun would soon be launching an iOS version of his classic early Macintosh game, Glider, in the App Store. Glider Classic [link] is now available for download and I've had a chance to put it through its paces. Let me share my impressions.
The good news is that Glider Classic for iOS is just what Glider was for the early Macs: quaint casual gaming with nicely frustrating puzzle elements and a simple visual aesthetic.
That simple assessment should be enough to let those familiar with the original title know that it's definitely worth a grab. For the uninitiated, let me explain the magic of the formula. (But I'll go ahead and toss out a spoiler: you want this game, too.)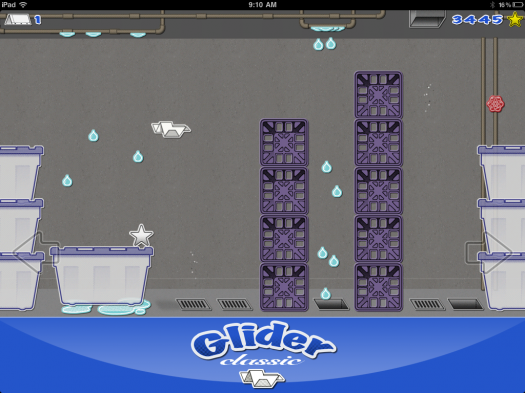 Glider was originally released by Soft Dorothy in 1988 as shareware. It presents a simple proposition: fly your paper glider through a house filled with obstacles, room to room (actually, the iOS version features one long, scrolling room per floor, in a departure from the Mac original), and get it outside. The only controls were (and are) "move left" and "move right." Air vents on the floor and sources of heat, such as lights and stereo equipment, keep your glider aloft. And don't land on anything. That's it. It's a task that sounds far simpler than it is, and giving it your best is a whole lot of fun.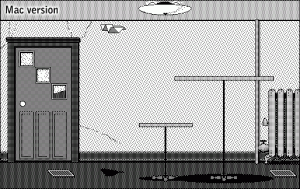 The original game featured modest aesthetics — line drawn shelves, simple dithered object shading, etc. — and that was, in part, forced by the limitations of the original platform, which was a Macintosh with an 8MHz CPU and a 512×384 pixel black and white display. The developer made the best of it way back when and the result was a charmingly simple, yet complex, casual game. The formula worked, and worked well. And so, in bringing Glider to the staggeringly more powerful iOS platform of today, Calhoun has maintained the control and visual aesthetics — the former by way of left / right tap controls, and the latter by entirely re-creating the visuals, but doing so in an intentionally minimalist fashion. The result is a game that looks and plays like the modern analog of the original that it is.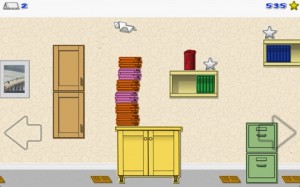 For those familiar with the earlier versions of Glider, Calhoun indicates that Glider Classic, from a gameplay perspective, is something of a mix of all of the titles from version 4, on down. He considers his commercial release of the game, Glider Pro from Casady & Greene, to have strayed a bit from the solid formula of the earlier releases, and so it was not a basis for the iOS version.
The house in Glider Classic features five different floors plus a basement level to fly through. The first floor is a pretty easy run, but the challenge ramps up notably as you progress. The developer not only hopes to add more houses to the game in a future update, but may also bring the classic Mac OS "house editor" to Mac OS X Lion, which would allow users to create their own play areas for the iOS version as well as the possible Mac App Store version that he indicates is likely to arrive at some point.
The current v1.0 release of Glider Classic runs on the iPhone 3GS and 3G iPod touch devices, on up, including the iPad (it's a universal application). Calhoun let me know, however, that he has already submitted the v1.0.1 update to Apple, which enables support for earlier iPhones and iPod touch devices, and squashes a few minor bugs, as well.
Glider is just a great little game with a lot of personality. And whether or not you've spent time with it in the past, it's a treat to play on modern iOS devices. The only criticism I can make. based on my time with the title so far. is the lack of online leaderboards. However, I discovered in a recent conversation with the developer that Game Center integration is on the list for a future update.
As indicated in our earlier post, John Calhoun recently left Apple after 16 years in order to bring Glider Classic and other titles to iOS. Last month he released Lab Solitaire [App Store], a photo-realistic version of Free Cell. For a bit more history on his days as a Mac game maker, I recommend checking out Bitmob's article entitled "Dreaming of a thousand-room house: The evolution of Glider," as well as MacScene's two part interview.
Glider Classic is currently available for a limited time at an introductory price of $0.99.