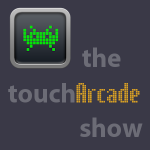 In this week's episode of The TouchArcade Show, we battle through a discussion of Irritable Bowel Syndrome and the "Eli's Scuba Diver At The Bottom Of A Fish Tank" (Eli Note: It's fixed in the second half, I'm so sorry.) voice woes in order to bring you the latest iOS video game news. At the top, we dig into the My Virtual Boyfriend, and then smoothly enter into the iCade, a few other delectables. Later, on the Front Page, we don our tin foil hats to chat about the PS Vita and remove them in order to have a discussion on Galaxy On Fire 2 Full HD. It's a neat show all-round, promise!
If you'd like to give us a listen, you can do so just below via in-browser streaming or direct download. If we've somehow convinced you to stick around, you can always subscribe to us on the iTunes or Zune Marketplace.
iTunes Link: The TouchArcade Show
Zune Marketplace: TouchArcade.com Podcasts
RSS Feed: The TouchArcade Show
Direct Link: TouchArcadeShow-013.mp3, 42MB
Here's your show notes and remember, you can always talk to us with an e-mail to [email protected] Let's brighten the mood next week and discuss dating advice. Seriously — send in your dating advice.
GAMES
JARED'S KITTY CORNER
FRONT PAGE