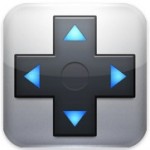 One of our very favorite not-a-game-itself-but-is-still-gaming-related apps in the App Store is Zell Application's Joypad Game Controller [Free]. We reviewed the Joypad this past February, and in short it turns your iOS device into a customizable virtual control pad for playing games on your computer. You just run the app on your device and then it very easily connects to a desktop client on your computer over Bluetooth or a local WiFi network. You're then free to map the virtual buttons of the Joypad to the keyboard controls of whatever game you're playing, or choose from the many preset configurations, and just like that you've got yourself a competent little game controller.
Naturally, it's not quite the same as having a physical controller, but if you like to travel light or find yourself needing to get your game on in a pinch it more than does the trick. Heck, I use the Joypad exclusively to play old emulators on my laptop simply because it works really well and I'm too lazy to bust out my USB controller. Ah, technology, always facilitating my laziness.
Anyway, back at WWDC this year I sat down with Zell Applications who explained how they had just released a Joypad SDK, which anyone can use to add native Joypad support in games on both desktop computers and iOS devices. We first saw this officially in action with the platformer Lars [$1.99/Lite], and recently the Mac App Store version of Mos Speedrun [$2.99] was updated with Joypad support, too. No need to pair the Joypad app with desktop software with these, rather just fire up either game along with the Joypad app on your device and everything just works, and it rocks.
During that WWDC meeting, Zell also revealed that the Joypad would be getting some retro skins packs in the near future, and that update has just hit the App Store. As you may know, Joypad was originally a paid app when it launched in March of last year, but in order to entice more people to use it the developers launched a separate free version back in January. As a way to support their efforts and put food in their bellies, the new retro skins are being sold for 99¢ each, or you can grab all 8 of them in a pack for $5.99 and save a couple of bucks.
Both versions of Joypad are functionally identical, but if you already owned the original paid version, which is now called Joypad Elite, then you'll get the entire 8 pack of retro skins included for free with the update. The skins are beautiful and feature 8 of the most classic console controllers ever, and are perfect for getting the full effect when playing with emulators. Also, inside of the in-app shop there is now a list of Joypad compatible games. So far there is built in support for Lars, Super Mega Worm [99¢/Lite], Emerald Mine [Free], and Mos Speedrun for Mac. Upcoming supported games will include Meganoid [$1.99], Arcade Jumper, 8-bit Rally [99¢], and Marathon [Free].
Finally, inside the store there is a link to order the Fling Mini, another cool control peripheral that we took a look at during WWDC and works really well in conjunction with the Joypad app. As a bonus, if you use the in-app link to order the Fling Mini then you'll get 10% off the regular price. Not a bad little deal at all.
In case you couldn't tell, I get pretty stoked talking about the Joypad. I just can't help it. It's clever, it works surprisingly well, and it's completely free to use. I actually game way more on my laptop since discovering the Joypad than I ever did before. It's just really convenient. If you haven't yet tried out Joypad for yourself, give it a download, you've got nothing to lose except your dependence on a dedicated physical gamepad.