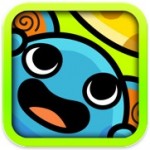 Every iOS developer wants to hear great feedback about their game. Still, some compliments are better than others, and when it comes to a portable title, there is one phrase that is music to the ears every time: "I can't put it down!" When it comes to Bouncy Mouse [99¢/HD], the new physics-based game from Munkadoo Games, that's the only phrase you'll be able to think of — because once you pick it up, you won't want to put it down.
Bouncy Mouse has a happy-go-lucky feeling to it from the moment you begin to play. I loved the punch drunk happy look of the characters, which reminded me of similar designs from games like Taiko Drum Master. In Bouncy Mouse, you play — surprise — a mouse who has to navigate its way through brightly colored 2D levels to chase cheese and eventually attack a cat that lies in wait at the end. I have to admit, I went into it with a very skeptical attiude. There's billions of platformers with the overly cute look on the App store, and the way you move the mouse by pulling it back and letting it fly just reminded me of Angry Birds, which does not need to be cloned ever, ever again.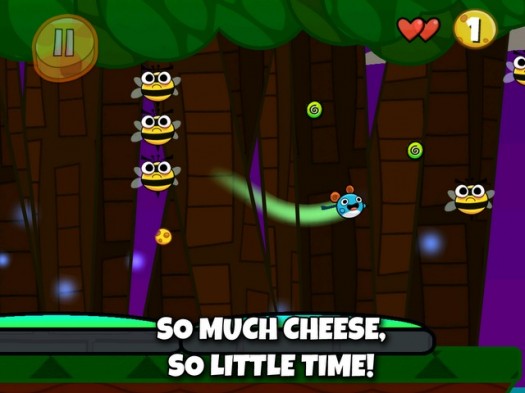 However, the comparisons stop early, because Bouncy Mouse has a charm all of its own. To navigate the levels, you move from point to point by pulling the mouse back on its tail with your fingertip and letting him fly. In between the floating points that mark your road, there are pieces of cheese which you can opt to capture as you progress. They rack up a higher score, but it's not necessary you get them to finish the level. The motion of pulling back your mouse and letting him fly was instant fun, as you have to get just the right angle to nail all the cheese as you hurtle through the air. Soon you learn you have to be very precise to get the shots just right, which is where the challenge comes in, but its a lot of fun even if you have to try a few times before you get it right. The controls are razor sharp too, which helps tremendously.
As levels progress, new elements will come into play that make your progress harder. Wide eyed bees that float up and down, bouncy platforms, curves that you'll have to surf — you name it, many of the classic tropes of platform gaming are in there. What's great about it, though, is that it never feels stale. There's something about the movement of point-to-point that makes you feel like the game is digestible in bite sized chunks, and the creative level design keeps you pushing forward to see what's going to be next. Did I mention there's also levels with names like "Fromage Forest" and "Camembert Climb?" Yeah, someone had their cheese dictionary in hand when they were writing this one.
Bouncy Mouse has 30 levels to unlock, and promises more coming in the Fall, so if you got hooked instantly like I did you can look forward to new levels soon. In the meantime, you can try your best to get 100% scores on every level, which might take you a while. The happy music and precious hand drawn look of the game make it a pleasure to play, and excellent level design really rounds it all out. For the 99¢ price tag, this is really a steal — don't miss out and assume that it's just another Angry Birds clone.