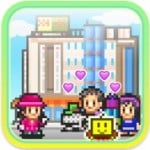 Just last week, we were filling your juicy brains with the knowledge that Kairosoft, the preeminent developer of cutesy mobile simulation titles including the highly lauded Game Dev Story [$3.99/Lite], was getting ready to release their latest title on US soil. We were fairly certain that his next title would be Mega Mall Story, as we spotted a banner for the game on their official website. And in fact, as of right now, our suspicions have been confirmed, as Mega Mall Story [$3.99] is now readily available in the US App Store.
Gameplay appears somewhat similar to the popular Tiny Tower [Free] where you are tasked with populating a fledgling mall building with various stores, staffing them up with qualified employees, and creating a successful and profitable mega complex of commerce where everybody wants to go to shop.
We'll of course be putting Mega Mall Story through its paces over the next few days, and will bring you a full review with our verdict. But, as is the case with any Kairosoft release, there are enough of you out there that have absolutely no problem picking up one of their new games sight unseen, and we totally support this reckless style of game purchasing by providing the App Store link for you below.
If you need some more input on what the game is like before our review, however, swing by the forum thread where our members are leaving their early impressions.