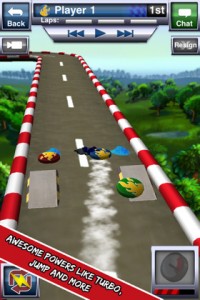 Arnold and Jared's obsession over the last six months saw another update this afternoon. If you haven't heard of Disc Drivin [Free / $1.99 / HD] yet, you should really check out our review. It's a really slick asynchronous online multiplayer racing game. Think of it as shuffleboard meets Mario Kart meets Words With Friends.
Anyway, Disc Drivin 1.7 is here, which brings a number of new tracks and obstacles that we detailed a few days ago:
This newest update adds another 3 brand new tracks, for a total of 18, as well as a new track element called the Flipper. You can see the overhead design of each of the tracks in the icons below:

As for the Flipper, pictured at the top of this post, you'll come across this obstacle placed in various parts of the ground in each of the 3 new tracks. When you slide over it, it propels you forwards and upwards, catapult style. This can either be a very good thing or a very bad thing, mostly depending on where you end up finally landing. The faster you're going when you hit the Flipper, the farther you'll get launched, so there should be some good strategic uses of the new object if utilized correctly.
So what are you waiting for? You can play the game for free, and the update is now live. Go start some games on the new tracks and let us know what you think of them.