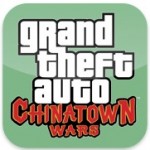 Back in January of last year, Rockstar's Grand Theft Auto: Chinatown Wars stormed onto the App Store and showcased just how robust a gaming experience could be possible on the iPhone. You essentially got a full-fledged GTA experience, comparable to and in some ways exceeding the versions released for the Nintendo DS and Sony PSP, for roughly a third the price. Even more than a year and a half later, it still stands as one of the best games on the iOS platform.
Chinatown Wars was easily worth its price of $9.99 when it released, and was a complete steal during the few price drops its seen in its lifetime, most recently being $4.99 this past February. But today, Rockstar is dropping Chinatown Wars to its lowest price ever. Currently you can pick up the title for just $2.99 for both the regular and HD versions of the game.
Really, $2.99 might as well be 99¢ for a title of this caliber. There is so many hours of gameplay in this game that for 3 dollars there really isn't a better ratio of content to price available. Not to mention the ridiculous amount of time you can waste just getting lost causing mischief in the sandbox world of Chinatown Wars. If you really need more convincing, check out our exhaustive original review as well as our look at the iPad native version. But at this price, if you haven't jumped on GTA: Chinatown Wars yet for whatever reason, now's the time to do it.